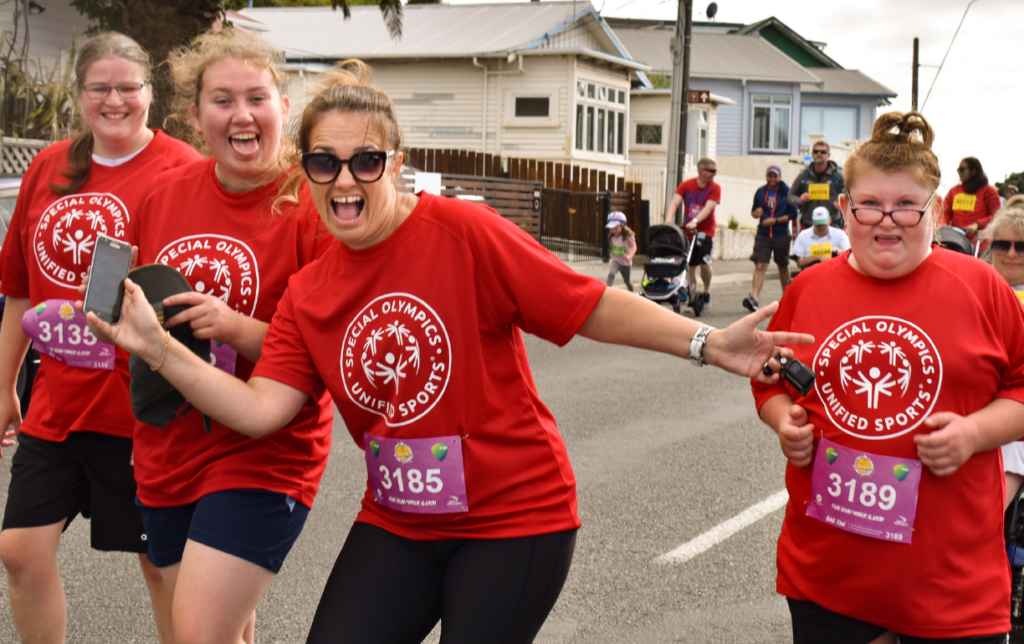 Working up a sweat at Round the Bays 🏃
5 March 2021
On 21 February, 25 athletes, parents, coaches and Special Olympics New Zealand (SONZ) staff walked the Brendan Foot Supersite (BFS) Round the Bays.
SONZ was thrilled to be chosen as an affiliated charity for the 2nd year and loved the opportunity to attend a great community event, raise awareness for SONZ and fundraise for the 2021 National Summer Games.
The SONZ team took off at 9:15am, along the 6.5km route they encountered a marching band, circus performers, cheerleaders and dancing, before finishing at Kilbirnie with a sausage sizzle and a bit of Bocce.
SONZ staff member Stacey Garrety helped lead the charge and says she loved all the excitement, but struggled at times to keep up with the SONZ athletes –
"I had such a fun morning and will definitely need to start training now to keep up with Tasmyn, Mieke and Amy next year!"
Hutt Valley athlete Tasmyn Grindlay says she had a great time with the team.
"It was great beautiful day in Wellington, and it was great day to do the Round of Bays with friends and Special Olympics staff members. At the end of the day it was great to meet Kaha the kiwi."
As a special surprise SONZ mascot Kaha the Kiwi showed up at the finish line to congratulate the team. Kaha's assistant and SONZ Events Director Asti Farrell says Kaha loved the opportunity to meet the athletes.
"Kaha had a great time meeting everyone, taking photos, dancing and with the help of the athletes even walked around meeting other participants and raising money for the National Summer Games."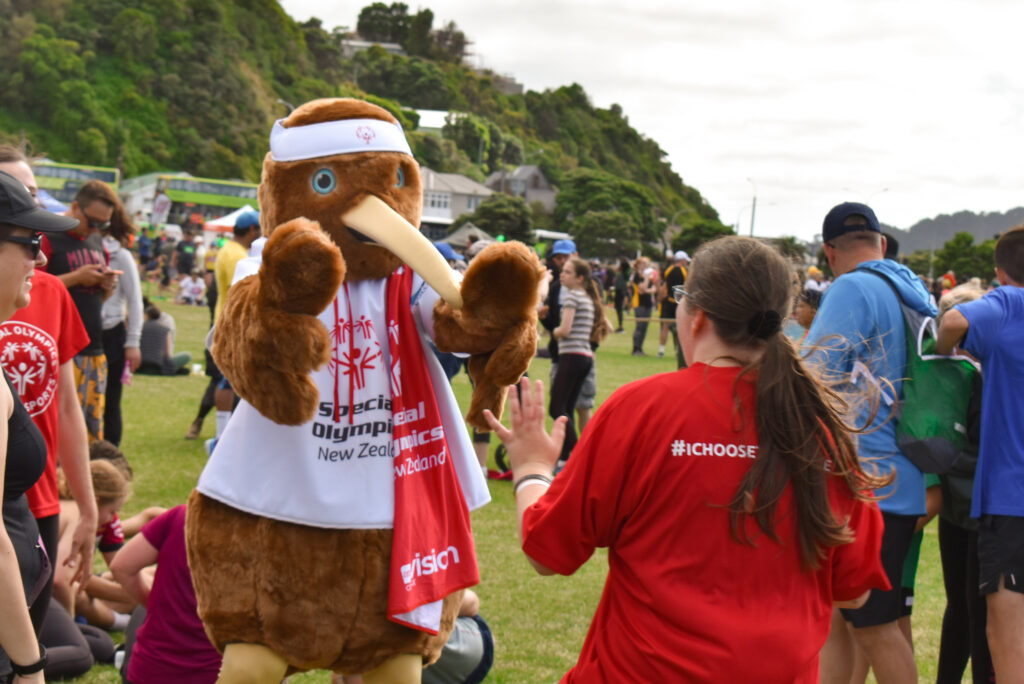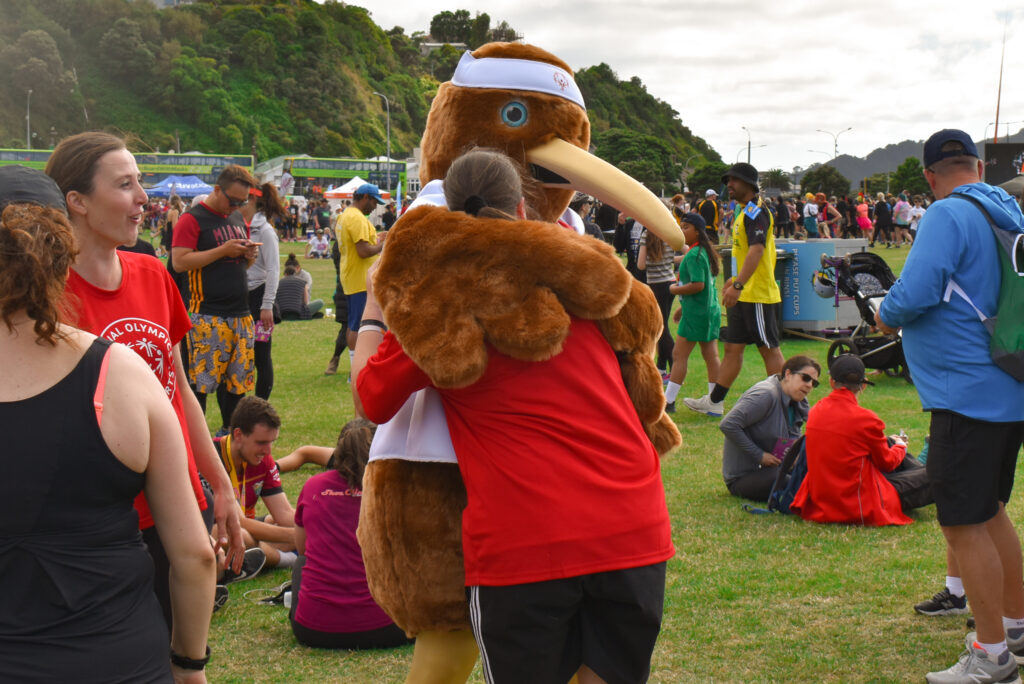 Participant Megan Bray had a huge personal achievement on Sunday walking 21km and raising $1,559 for SONZ.
Megan was inspired by her son Jeremy's experience after lockdown to fundraise for SONZ and walked 10km twice a week to train for Round the Bays. You can read more about Megan and Jeremy's fundraising story here
SONZ gives a huge thanks to Megan and the other fundraisers including Rachel Roberts, who raised money for SONZ at Round the Bays.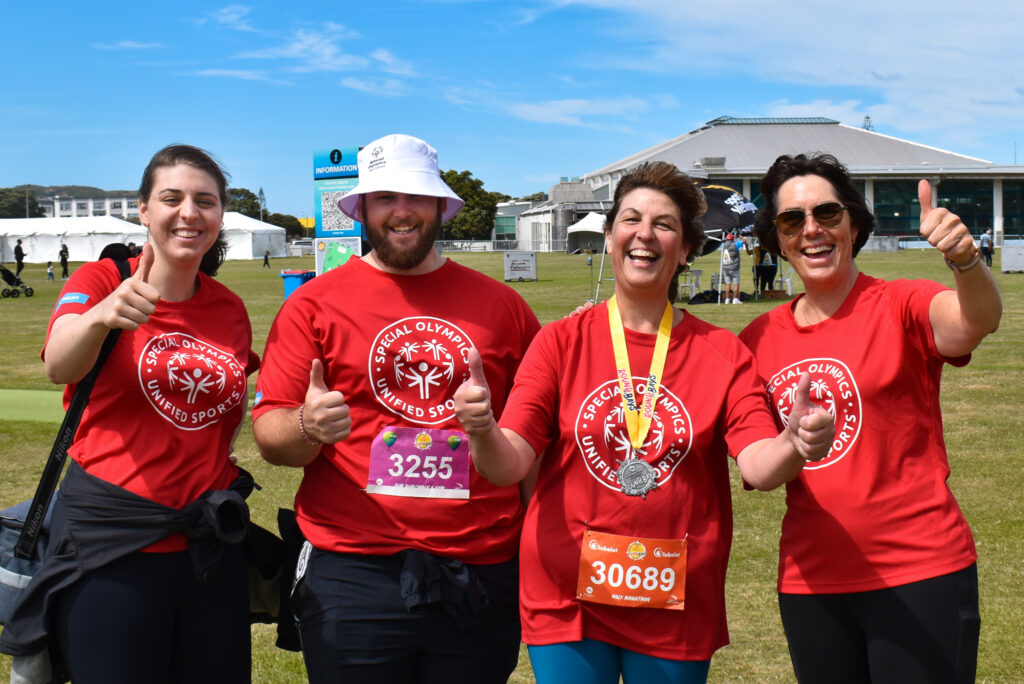 BFS Round the Bays Event Director John Grieve says they had a wonderful time with SONZ.
"It has been a fantastic experience having Special Olympics New Zealand as an Affiliate Charity Partner for Brendan Foot Supersite Round the Bays 2021 for a second year running.
Sport Wellington has a vision for everyone to be active, healthy and happy, and the event is organised to be as accessible and inclusive as possible.
The work undertaken by Special Olympics New Zealand in providing physical activity opportunities for people with intellectual disabilities is inspiring and it was great to see such a large team participating in Brendan Foot Supersite Round the Bays 2021"
It was a fun, inspiring and fantastic day of connecting with the Wellington community and we can't wait for next year!