NSG Postponed to 2022
National Summer Games
Postponed to 2022
Volunteer at the 2021 National Summer Games in Hamilton.
For the safety of athletes and volunteers the National Summer Games has been postponed
Join a Club
Athlete, coach or volunteer - contact your local club to get involved.
Whether as a athlete, coach or volunteer contact your local club to learn how to get involved.
Young Athletes
Register your interest in our internationally recognised programme for 2 - 7 year-olds in 2022
National Summer Games
Postponed to 2022
Due to current uncertainty around the Delta virus, alert levels and the associated stress and impact on athletes, coaches and volunteers, the 2021 National Summer Games have been postponed to 2022.
Special Olympics New Zealand are currently working to provide detailed information to clubs on registrations, qualifications, costs and dates, this may take several weeks and we thank clubs for their patience during this time.
A Facebook Live Q&A will be held on Wednesday 22 September at 6pm with CEO Carolyn Young and Events Director Asti Farrell to answer any questions.
Online Club Registrations
Online registrations are now available for athletes, volunteers and unified partners. You can find more information, tutorials and frequently asked questions on our Online Registrations Resources page.
You can access the online athlete registration form and online volunteer and unified partner registration form on our website's main menu under 'register'.
We will continue to accept paper based registration forms until July 1st 2021 for athlete registrations and September 1st 2021 for volunteer and unified partner registrations.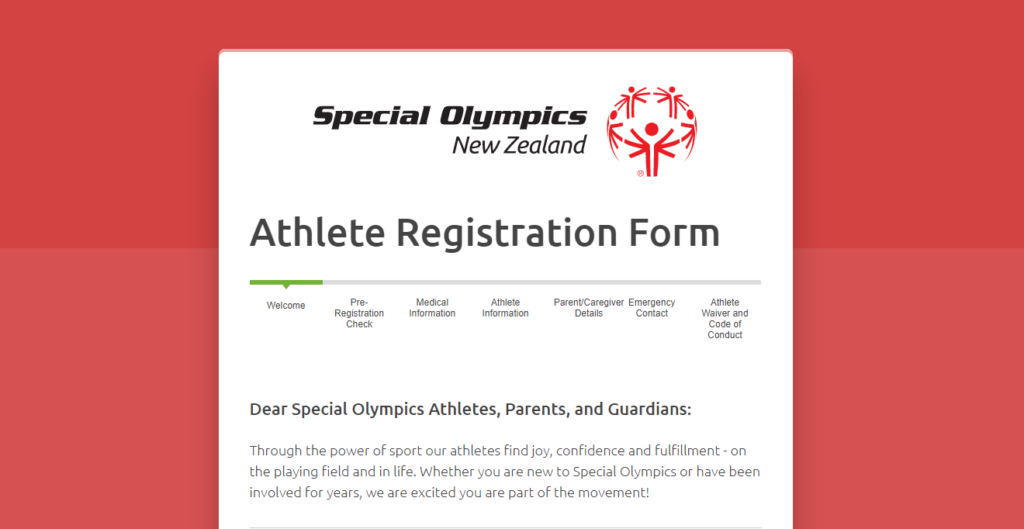 We are excited for this move to digital registrations. We value the help of our volunteers and hope that this will make the registration process easier for our clubs.
For any feedback or questions please contact gms@specialolympics.org.nz
Latest News
Connect with Us
Subscribe to our e-newsletter (Fanletter) for news, events features, athlete stories and more
Thank You to our Partners