Our Purpose
To enrich the lives of people with intellectual disabilities through sport
Our Vision
People with intellectual disabilities in Aotearoa are valued
Our History
Founded in 1968 by Eunice Kennedy Shriver, the Special Olympics movement has grown from a few hundred athletes to more than 3.7 million athletes in over 170 countries in all regions of the world, providing year-round sports training, athletic competition and other related programs.
---
Our Founders – Grant & Wendy Quinn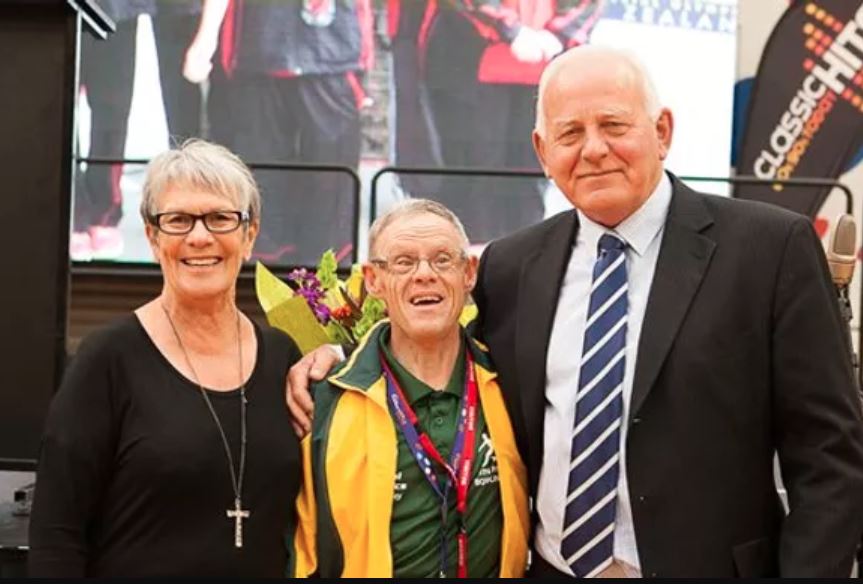 Wendy Quinn, Colin Bailey and Grant Quinn
'From small beginnings come great things'.

This adage is certainly true of Special Olympics New Zealand.
In the early 1980s, Lower Hutt-based insurance broker Grant Quinn began training Colin Bailey, an athlete with Down Syndrome, along with mainstream swimmers at the Huia Pool. By chance an exchange student from the USA was at the pool one day and asked if Colin was training for Special Olympics. This question sparked a community effort led by Grant to establish a New Zealand branch of the worldwide sports movement.​
Together with his wife Wendy, Grant recruited three other swimmers who had intellectual disabilities along with Colin Bailey to form an ad hoc Special Olympics New Zealand team. With the help of community fundraising, the team journeyed to the 1983 Special Olympics World Summer Games held in Baton Rouge, Louisiana, USA.​
Grant returned from the trip inspired. He took leave from work and devoted the next two years to establishing Special Olympics New Zealand. He visited with mayors in different towns, contacted celebrities and key sports figures such as Sir John Walker, Sir Edmund Hillary, Rod Dixon and Stu Wilson, gaining valuable support from around the country. By 1985 Grant had encouraged all the regions around New Zealand to participate in the inaugural Special Games in Lower Hutt that year, as well as teams from Tasmania, Australia and a small team from New Caledonia (672 athletes in all). The Auckland team was even accompanied by its Mayor (Dame) Catherine Tizard (a testament to the relationships Grant had forged in the regions).​
Through drive and perseverance Grant and Wendy created a national sports training movement for people with intellectual disabilities. Unlike many volunteers who work with Special Olympics globally, Grant and Wendy do not have a family member with an intellectual disability. Their motivation was not driven by a personal need, rather their desire to create something of benefit for the community.​
Grant and Wendy have continued their involvement with Special Olympics New Zealand throughout the past 30 years. Grant acted as a Trustee of Special Olympics New Zealand in its early days, and went on to become Games Director of the 2005 Special Olympics New Zealand National Summer Games and Asia Pacific Invitation Games held in Christchurch in the same year.​
Special Olympics New Zealand owes its existence to Grant and Wendy Quinn. From a very small beginning, providing four athletes with the chance to compete internationally, Grant and Wendy have created the leading National Sporting Organisation for people with intellectual disabilities and have transformed the lives of more than 5,000 athletes, their families throughout New Zealand and the 1,500 dedicated volunteers that support them. 
---
Our Timeline
1983
World Summer Games, Louisana USA
1985
National Summer Games Lower Hutt, NZ
1989
National Summer Games Palmerston North, NZ
1993
National Summer Games Hamilton, NZ
1997
National Summer Games Christchurch, NZ
1987
World Summer Games Indiana, USA
1991
World Summer Games Minnesota, USA
1995
World Summer Games Connecticut, USA
1999
World Summer Games North Carolina, USA
1992
National Winter Games NZ
1995
National Winter Games NZ
1999
National Winter Games Cardrona, NZ
2003
National Winter Games Cardrona, NZ
1993
World Winter Games Salzburg, Austria
1997
World Winter Games Toronto, CA
2001
World Winter Games Alaska, USA
2003
World Summer Games Dublin, Ireland
2007
World Summer Games Shanghai, China
2011
World Summer Games Athens, Greece
2001
National Summer Games Auckland, NZ
2005
National Summer Games Christchurch, NZ
2009
National Summer Games Palmerston North, NZ
2013
National Summer Games Dunedin, NZ
2005
World Winter Games Nagano, Japan
2009
World Winter Games Idaho, USA
2013
World Winter Games Pyeongchang, Korea
2017
World Winter Games Graz, Austria
2007
National Winter Games Cardrona, NZ
2011
National Winter Games Cardrona, NZ
2015
National Winter Games Cardrona, NZ
2011
Trans-Tasman Games Wellington, NZ
2013
Trans-Tasman Games Cairns, AU
2016
Trans-Tasman Games Hamilton, NZ
2013
Asia Pacific Games Newcastle, AU
2015
World Summer Games California, USA
2019
World Summer Games Abu Dhabi, UAE
2017
National Summer Games Wellington, NZ
2019
National Winter Games Cardrona, NZ
1983
World Summer Games, Louisana USA
1985
National Summer Games Lower Hutt, NZ
1989
National Summer Games Palmerston North, NZ
1993
National Summer Games Hamilton, NZ
1997
National Summer Games Christchurch, NZ
1987
World Summer Games Indiana, USA
1991
World Summer Games Minnesota, USA
1995
World Summer Games Connecticut, USA
1999
World Summer Games North Carolina, USA
1992
National Winter Games NZ
1995
National Winter Games NZ
1999
National Winter Games Cardrona, NZ
2003
National Winter Games Cardrona, NZ
1993
World Winter Games Salzburg, Austria
1997
World Winter Games Toronto, CA
2001
World Winter Games Alaska, USA
2003
World Summer Games Dublin, Ireland
2007
World Summer Games Shanghai, China
2011
World Summer Games Athens, Greece
2001
National Summer Games Auckland, NZ
2005
National Summer Games Christchurch, NZ
2009
National Summer Games Palmerston North, NZ
2013
National Summer Games Dunedin, NZ
2005
World Winter Games Nagano, Japan
2009
World Winter Games Idaho, USA
2013
World Winter Games Pyeongchang, Korea
2017
World Winter Games Graz, Austria
2007
National Winter Games Cardrona, NZ
2011
National Winter Games Cardrona, NZ
2015
National Winter Games Cardrona, NZ
2011
Trans-Tasman Games Wellington, NZ
2013
Trans-Tasman Games Cairns, AU
2016
Trans-Tasman Games Hamilton, NZ
2013
Asia Pacific Games Newcastle, AU
2015
World Summer Games California, USA
2019
World Summer Games Abu Dhabi, UAE
2017
National Summer Games Wellington, NZ
2019
National Winter Games Cardrona, NZ