Kia mau ki te tokanga nui a noho (there's no place like home) 🏡
The past few weeks have been a challenge for us all. It's times like this when we realise how lucky we are to have such an amazing Special Olympics community around us 💪💞
Check out the latest from our Special Olympics New Zealand community, including:
A video message to you from our CEO, Carolyn Young
Special Olympics Tamaki athlete, Mohit Chand describes his dream airport job
Meet Wellington athlete, Ethan Abbey and his Achilles Guide, David Cunningham
Spotlight on Rowena Massey, superstar Counties volunteer
Say hi to our new Regional Sports coordinators, Niall and Tristen
Some fun tips for staying healthy at home
Read on or check out the compact Fanletter.
From our CEO: He aha te mea nui o te ao? He tangata, he tangata, he tangata
Carolyn Young's message to you.
Tēnā koutou, tēnā koutou, tēnā koutou katoa and welcome to the April Fanletter.
I've been thinking a little bit about what I wanted to stay today, and I reached out to a Māori proverb that I think captures what I'm thinking now.
It goes like this: He aha te mea nui o te ao? He tangata, he tangata, he tangata. What's most important in the world right now? It's the people, the people, the people.
I'm coming to you today from my home office here in Wellington, reaching out to your home around the country, while everybody stays home to save lives.
In the last short while we've all seen massive disruptions in our routines and connections with each other as we try and adjust to working and staying at home.
In this time, Special Olympics New Zealand's office is open. Staff are working remotely from home. So if there's anything we can do to help, or any support that you need, please reach out via email or phone. We'll see how we can help you through these difficult times.
Recently, Tim Shriver (Chairman, Special Olympics International) indicated that he felt it would be a good idea to just slightly adjust the athlete oath at the moment so that we are more embracing of the whole movement and focus not just on the athletes, but the wider picture.
His perspective is as follows: Let us win. But if in the moments when we cannot win, let us be brave in the attempt. It changes the focus from the 'I' to the collective 'We', and that collectively we can do this. In fact, we must do this and we will win. What we all have in common, is Special Olympics, and that really amazing thread and connection that it brings to everyone. — Carolyn Young, SONZ CEO
During this time, I think it would be great if we could take inspiration from the bravery that our athletes show every day.
Many athletes have seen and faced isolation everyday of their life. And when they found Special Olympics and they came into the movement, it brought a light into their life around what it is to be connected and feel part of something.
Let us use that connection and that inspiration to bring us all together, so that when we are ready to go back to training and back to competition, we're stronger and more connected and better prepared than we would be if we did this on our own.
Let's not leave anyone isolated. Let's make sure we reach out to all coaches, to volunteers, to our athletes, to our staff, to our boards. Anyone that's on their own: we don't want them to feel that loneliness and isolation.
Make sure that we're all connected during these difficult times. And can I remind everyone to stay home to save lives.
This time will pass. Bye for now, Carolyn.
Mohit Chand in the NZDA #WeDecide campaign for National Down Syndrome Day
My dream job working at the airport
By Mohit Chand, Special Olympics Athlete
One day mum asked me what I would like to do. I said I would like to work at the airport.
Then one day I got an offer to work at the Air New Zealand domestic lounge. Later I moved to the regional lounge.
My hours of work are 1.00 pm to 7.00 pm three days a week.
I catch a bus to the Manukau Bus Stop and then I catch the 380 bus to the airport.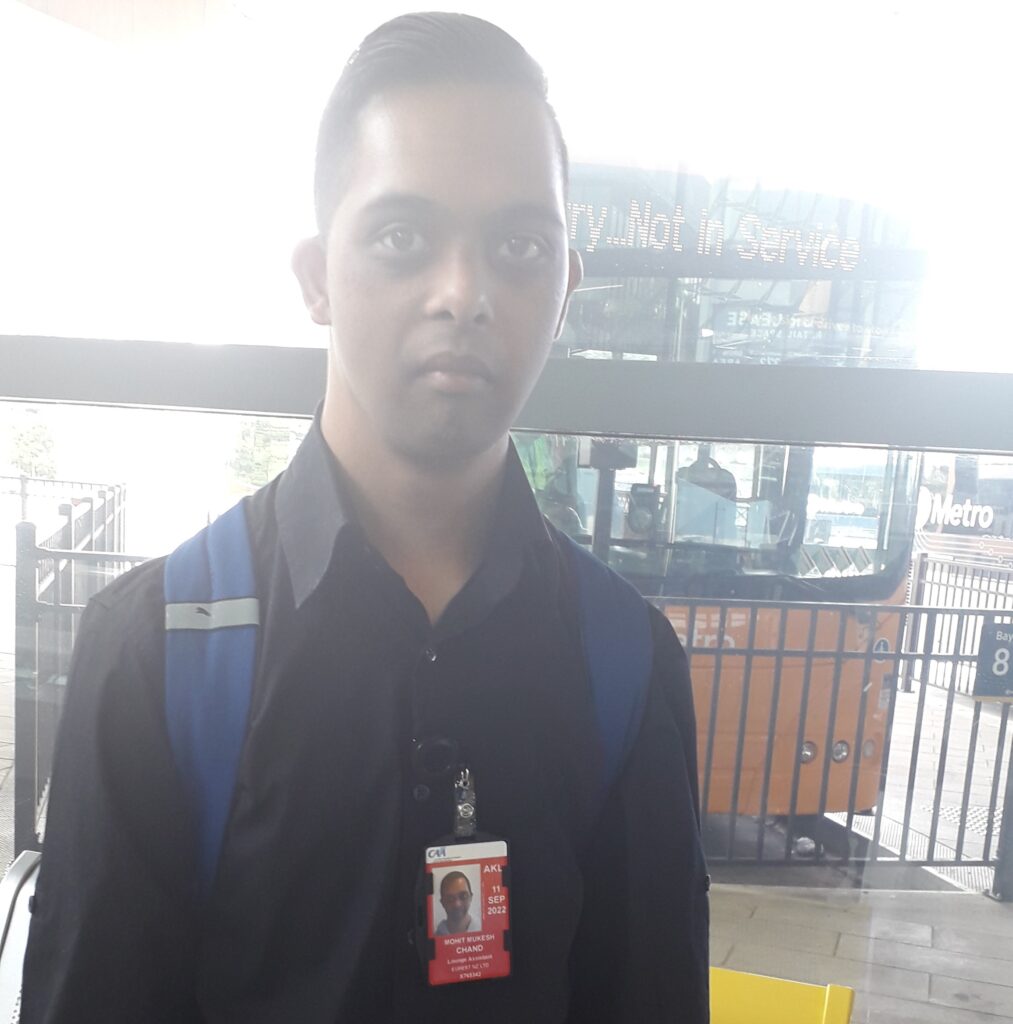 Mohit ready to catch the bus to work.
We have briefings before we start working.
My work is to clean the tables, put away the plates and cups on the trolley.
I have a break during my work and afterwards go straight back and keep working until I finish all the work that I need to do before my mum picks me up.
I enjoy working there, meeting people like the TV people, Politicians and friends and family at the lounge.
It is a nice place to work with friendly staff.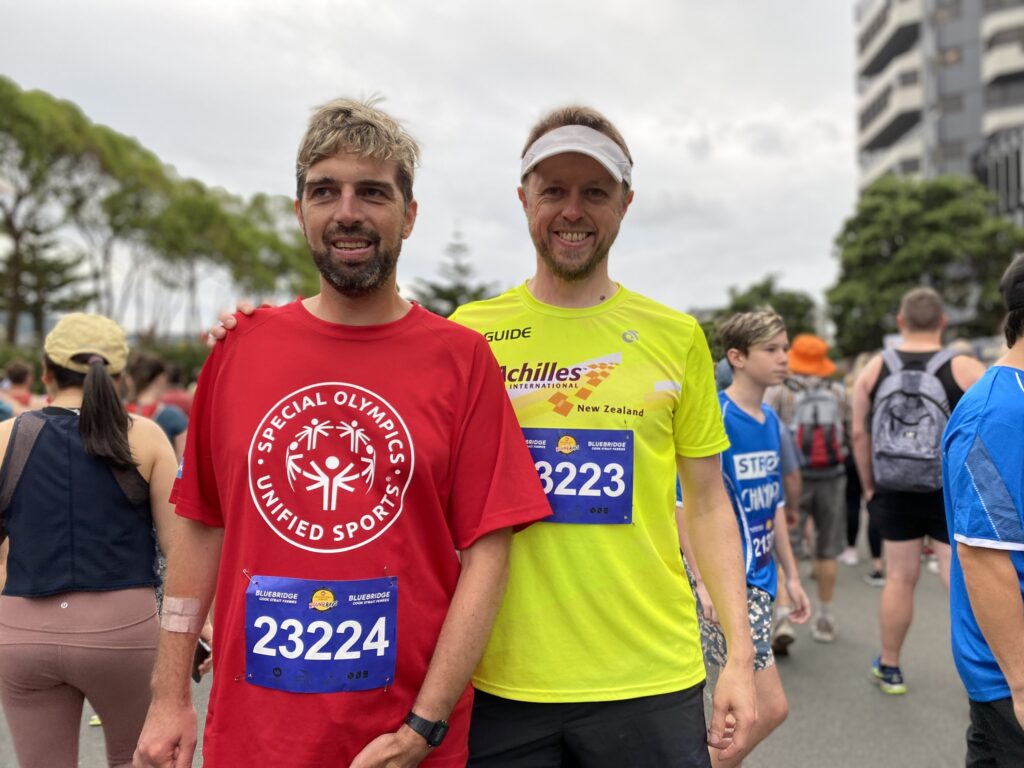 David Cunningham (left) and Ethan Abbey (right) getting pumped for the 2020 Brendan Foot Supersite Round the Bays where they ran to raise money for Achilles and Special Olympics.
The running adventures of Ethan and his Achilles Guide, David
Athlete Ethan Abbey first got involved with Special Olympics in 2004.
Ethan currently does athletics, swimming and basketball, "I like them because I like to have fun and they are my leisure activities," says Ethan,
"I got involved to learn to swim and so I could have a good time, I like it because I have friends in the team. I like it because I go on trips and we have barbecues."
We asked Ethan to tell us about some of the things he's most proud of during his time with Special Olympics so far:
"I'm proud of my freestyle swimming and breaststroke. I'm proud because I shoot goals at basketball. I'm proud that I do lots of circuits at Newtown Park Athletics." — Ethan Abbey, SONZ Athlete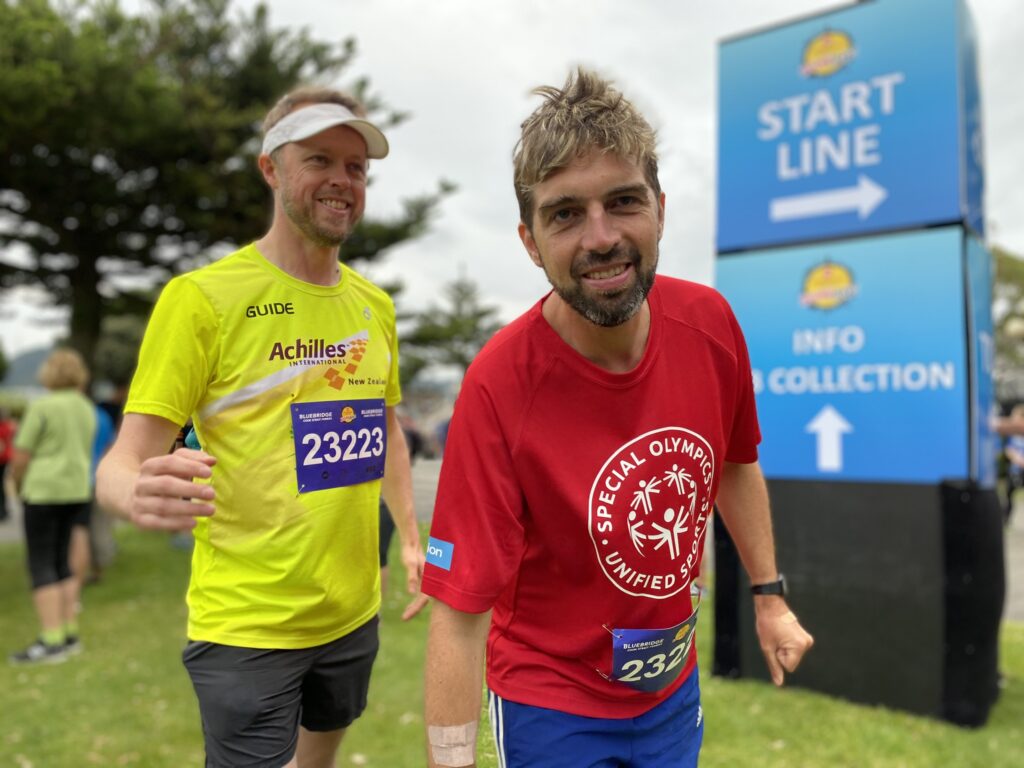 Ethan and David have been running together for two years so far.
When Ethan runs, he's accompanied by David Cunningham, his AchillesGuide. Ethan and David have been running together for the past two years and are now firm friends.
Achilles is as an organisation that helps people with disabilities find running buddies to assist and accompany them. The goal is for people with disabilities to participate in events just like anybody else — whether it's a casual weekend thing, major local event, or the New York Marathon!
David says being a volunteer opens your eyes to seeing things in a different way: "The reward of crossing the finish line with someone you've spent all that time training with will be as potent an accomplishment as anything you do as an individual." — David Cunningham, Achilles Guide
He and Ethan have built a strong bond as running buddies, "While we run, Ethan tells me about things from his life or asks me questions to try and better understand things on his mind. After two years of running, we're very comfortable with each other."
Ethan says of David, "I like that he's kind to me and that he's friendly to me. He's special to me."
They do fortnightly Achilles practice, plus take part in numerous events together. Their first race as buddies was the 10km Petone Five Bridges. Just a year later, they travelled to Australia and ran the Sydney Running Festival Half Marathon.
This is both Ethan and David's favourite memory of running together, "Running the beautiful city of Sydney with Ethan was unforgettable…I have the handwritten thank-you card from him pinned on my office wall. It's a very Ethan card, very heart-felt, and special."
David is regularly impressed with Ethan's dedication to sport, "When we aren't preparing for a particular event, it's Ethan who decides where we go and what we do. If we're preparing for a race, then I will take charge of the training to ensure that Ethan's ready for the distance we need to cover. I needn't worry though — Ethan is a machine who never slows down."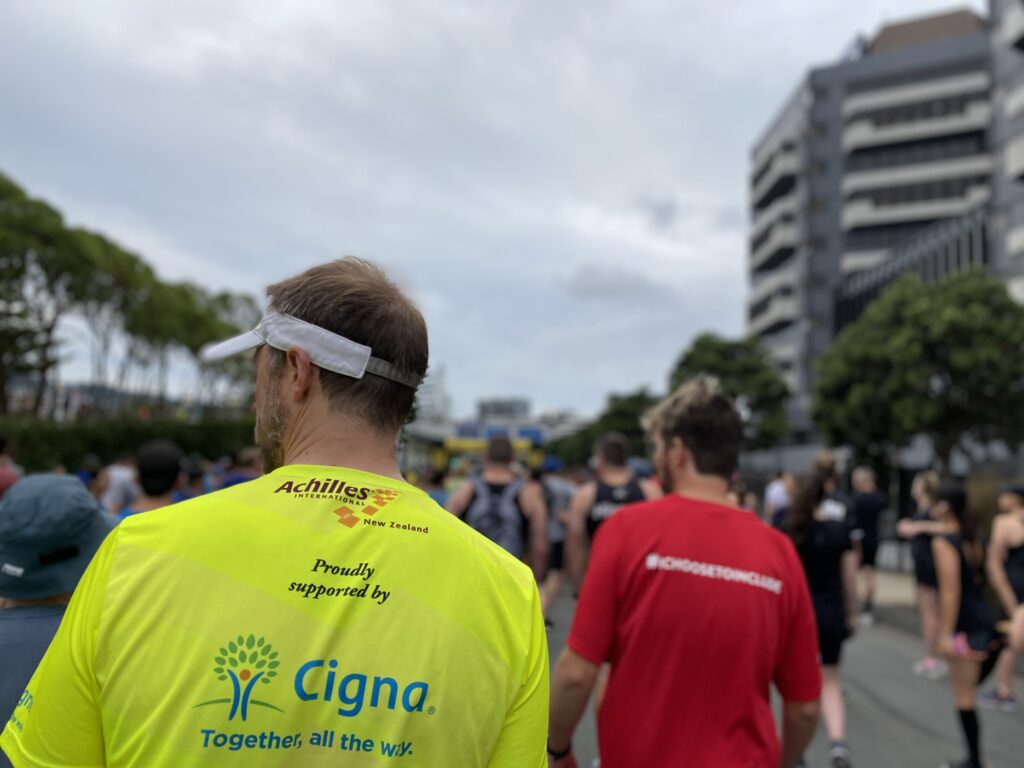 Ethan and David head toward the start line at Round The Bays.
David became aware of Special Olympics through Ethan, but first learned about Achilles while running a half marathon in Canberra, "The day before my race was the 10km event, and I was hanging out at the finish line and watched a large group of Achilles runners cross the finish line together. All these visually impaired people running a race surrounded by crowds, but perfectly safe and secure with their guides, blew my mind. I've been running for years and wondered why I hadn't taken note of this organisation before! As soon as I returned to New Zealand, I looked up Achilles and joined the local group."
Since running with Ethan, David has noticed Ethan's confidence grow, "It's so healthy to have everyone outside, exercising, and interacting with all kinds of people. I've learned how very much alike we all are."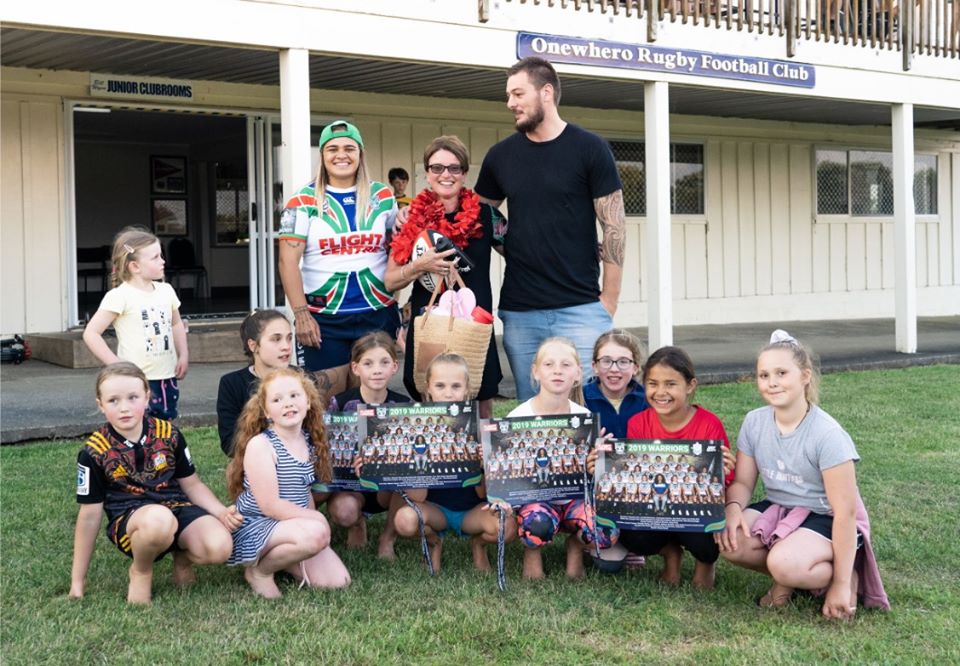 Rowena Massey (centre) receiving an award from Flight Centre and the Vodafone Warriors NRLW team for her work with the Onewhero Rugby Football Club and for "pouring her heart and soul into Special Olympics NZ."
Spotlight on an amazing volunteer: Rowena Massey
You could fill a book with Special Olympics New Zealand volunteer, Rowena Massey's contributions and achievements since getting involved back in 1995.
Highly respected by athletes, volunteers and families alike — you'd be hard pressed to meet someone at Special Olympics who hasn't been touched by Rowena's kindness and generosity.
During her earlier years, Rowena joined Special Olympics Counties Club's committee and assisted with the many sports being offered at the time.
Before long, she became the Club's athletics coach, then Chairperson and Coordinator — positions she currently holds within the Club today.
Rowena has mentored many athletes over the years and has been very active and involved in developing an Athlete Leadership Programme (ALP) within the Club.
The club has three athletes who have already completed the Athlete Leadership Programme: Rachell Prestige, Jacob Osborne and Grace Payne. And Shanae Dean is in training this year.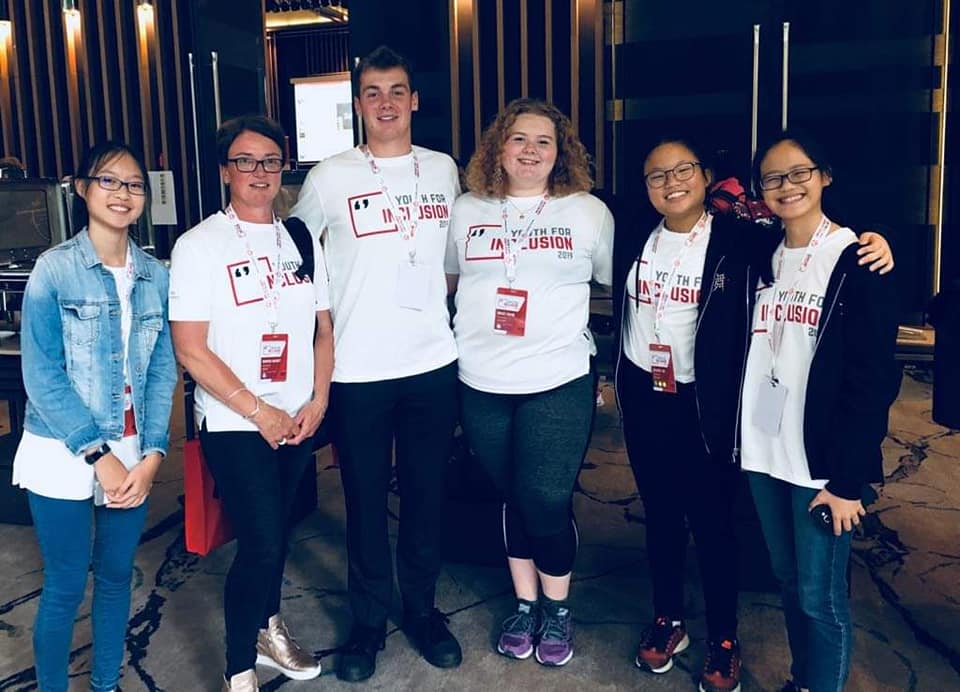 Rowena Massey (second from left) stands next to Jack Green (volunteer) and Grace Payne (athlete) at the 2019 Youth For Inclusion Summit in Singapore.
Members of the Athlete Leadership group meet monthly, participate in monthly club committee meetings, and organise, manage and deliver many of the Clubs sports and social events. Rowena is the driving force behind all of this.
Along with these busy roles, Rowena is also the club's representative on the Upper North Island Regional Council. Here, she plays an active role in fundraising, coordinating the annual sports calendar for the Upper North Island Region, plus coordinating and facilitating the Region's Athlete Leaders.
Rowena was the Counties Team Manager for both the 2013 and 2017 National Summer Games and before that assisted behind the scenes so the club could attend earlier Games.
She was also the Assistant Head of Delegation for the Special Olympics New Zealand team at the 2015 and 2019 Special Olympics International World Summer Games in Los Angeles, and Abu Dhabi.
Like so many people within Special Olympics, Dave Beattie (Counties Secretary) speaks fondly of Rowena, "Over the past 23 years, Rowena has developed an in-depth knowledge of working with people who have an Intellectual Disability and has also developed and refined many skills not only in the sports arena, but also in running a very successful Club."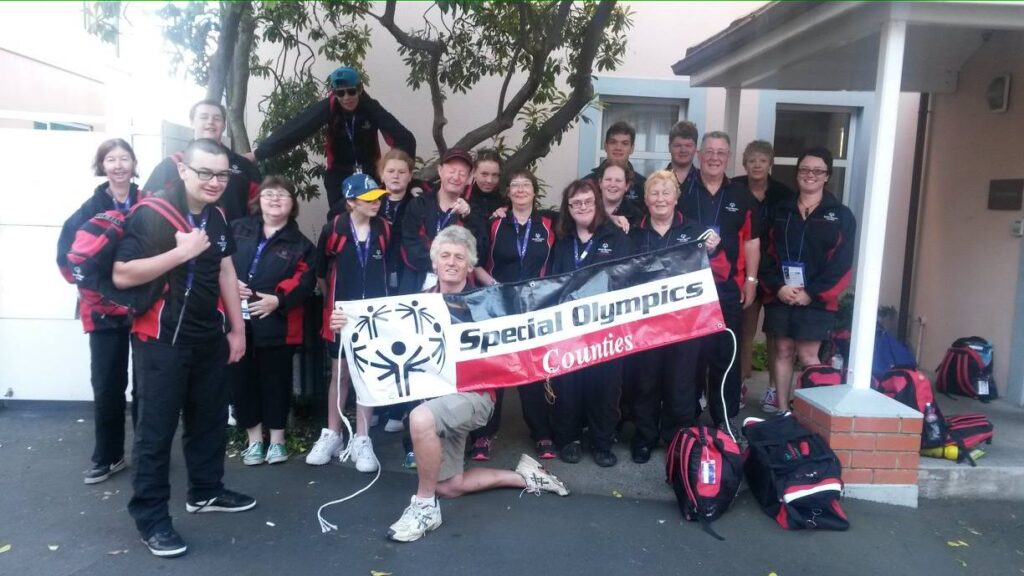 Throwback to 2013 — some of the Special Olympics Counties team ready for competition.
Dave describes Rowena as a rugby fanatic, "She is the Registrar of her local Onewhero Rugby Club, manages the Club's Facebook, and is also the Manager of the Club's Premier Men's team. When not involved in these activities, you'll find her organising a working bee."
Rowena is also very active with the Counties Manukau Rugby Union, "If she's not working behind the scenes or taking tickets during the Mitre10 Cup Competition, she's acting as the Unions Men's Sevens Manager. Counties Manukau won the National Sevens title in 2016."
Rowena has won many awards, including the title of 'Administrator of the Year' at the Counties Manukau Sporting Excellence Awards and, the supreme award of 'Franklin's Finest', at the Franklin County News 'Franklin's Finest People of the Year Awards'.
Dave admires Rowena's empathetic, positive and 'can do' attitude, as well as her organisational skills and her passion for all she does, "She's a very enthusiastic team player but also possesses tremendous leadership and mentoring skills. Her energy is boundless, and she cares deeply for others." — Dave Beattie, Special Olympics Counties Secretary
We caught up with Rowena to learn more about why and how she became such an enthusiastic part of the Special Olympics movement: "To be honest my inspiration came from my first training. I started working with IDEA Services and one of the ladies there, Nicky, knew of my love of sport and strongly suggested I come and volunteer with Special Olympics and that was it! Hooked! I started with Athletics and coaching sports and I am now in more of an organising behind the scenes role, which I love."
Rowena sees first-hand the difference Special Olympics makes to athletes', "Confidence across all areas of their lives, which comes from having the opportunity to participate in sports and have fun with their mates. Skill development, achieving goals, interacting with friends, finding their voices and true potential. I have a passion for Athlete Leadership and empowerment and seeing athletes grow in this area truly inspires me!"
Rowena describes the Special Olympics movement as fun, inclusive, embracing of everyone, empowering and respectful, "It's a whānau. Being a volunteer opens your eyes to the unlimited potential that everyone has to be coached, taught and nurtured to achieve. The athletes teach you patience, kindness, to laugh, unconditional love, the need for compassion and that life's hurdles are never insurmountable, maybe sometimes you will need to find a very windy long path around a hurdle — but you will get there in the end!"
Thank you, Rowena, from all of us in this Special Olympics whānau 💞
Meet our new Lower North Island Regional Sports Coordinator, Tristen
By Tristen Mathieson, RSC Lower North Island
I've recently completed my Bachelor of Sport and Recreation in Nelson and have moved up to Wellington to start a new adventure.
During my studies. I was heavily involved in my local hockey community as a player, coach, club committee member and Nelson Hockey Association board member. Of all these roles, I enjoyed coaching the most.
Having played for the Nelson College 1st X1 when I was younger, I was especially proud to be named head coach. I loved every second of my 3 years coaching the team.
I have a passion for spreading the positive benefits that sport and exercise can have on all members of society. It's my firm belief that access to sport should be given to everyone.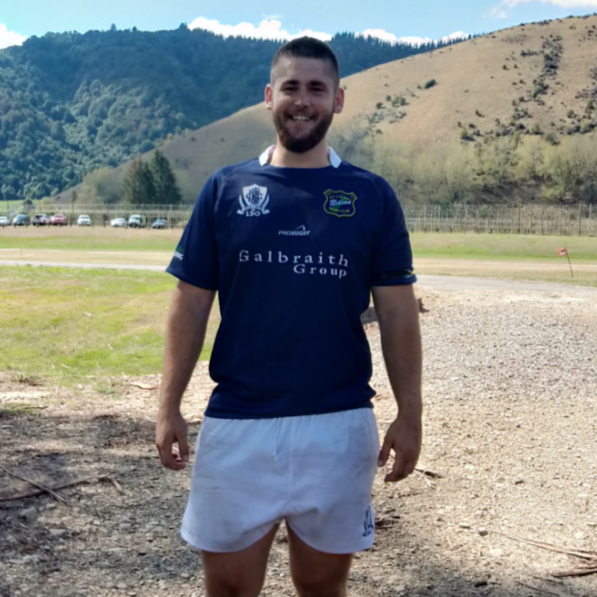 Tristen Mathieson
My dream job is one that allows me to improve access to sport in my local and national community, and to make a difference in people's lives.
Working as an RSC for Special Olympics New Zealand gives me the incredible opportunity to do exactly that.
I'm looking forward to working with the schools and clubs in my area to provide high-quality sporting opportunities. And I'm excited to work with our athletes to create lasting fun and positive memories.
…and our new Upper North Island Regional Sports Coordinator, Niall
By Niall Thompson, RSC Upper North Island
I grew up in a little town called Woodend in North Canterbury and lived there until I was 23 years old. In the summer months you'll see me out at the beaches exploring or swimming. In the winter months, you can find me playing football or up on the slopes snowboarding.
I graduated from Ara Institute of Canterbury with a Bachelor's Degree in Applied Science – Sport and Exercise Science in 2017.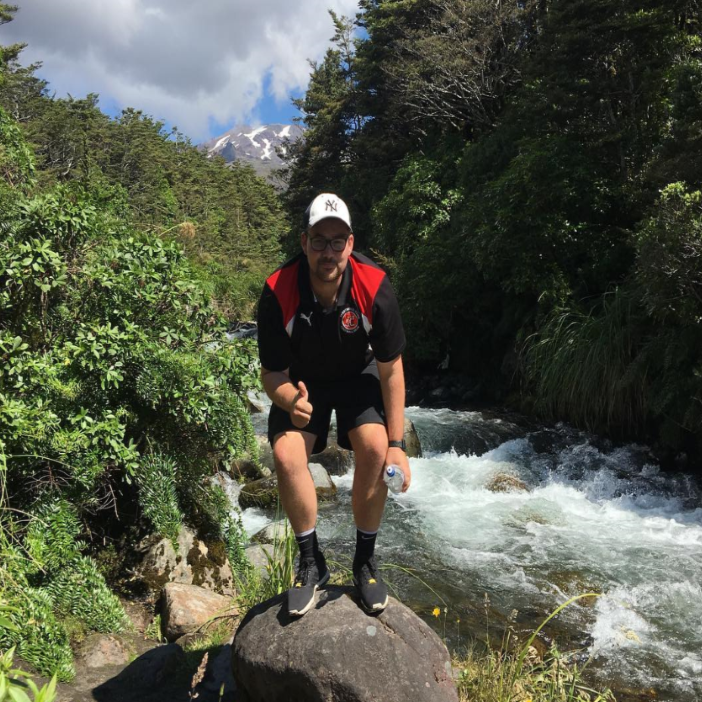 Niall Thompson
During my time studying, I did a lot of volunteer work in the sporting industry. This included working at the FIFA 2015 Under 20 Men's World Cup and with National League Football side Canterbury United.
I made the move to Auckland in 2018 to take on an opportunity as a sports coordinator with Long Bay College on the North Shore.
During my two years at Long Bay College, I was involved with the operations of many sports along with coaching some as well.
I was lucky enough to work with the learning support class there and went along with them to the football and basketball North Harbour games day held by Special Olympics New Zealand. This was my first experience with Special Olympics and was a great insight on what fantastic organisation they are. I can't wait to get involved and stuck in with the many Special Olympics New Zealand events across the year.
Meeting all the amazing clubs, schools, athletes and volunteers is something I look forward to in this role.
Staying healthy at home
We are all missing catching up with our friends at training and events right now. Let's stay positive and soon enough we'll all be together again in person.
Stay positive, your Special Olympics community are all still here for you.
Until then, clubs throughout New Zealand are sharing advice and support online to keep you healthy, happy and fit.
By the way…get in touch if you'd like to do your own takeover of the official Special Olympics New Zealand Instagram account, just like Sarah did 🤩
Our Fit 5 Guide is another great resource to keep you on track with regular exercise, eating healthy and drinking plenty of water.
And we have a new YouTube channel, where you can catch the latest exercise and training videos created by SONZ athletes and volunteers.
Take care, stay in touch with each other, and before you know it, we'll all be together in person again 🖐🖐
Thank you to all our wonderful partners 💕