Tom Russell is a Special Olympics New Zealand athlete — and has been since 2003.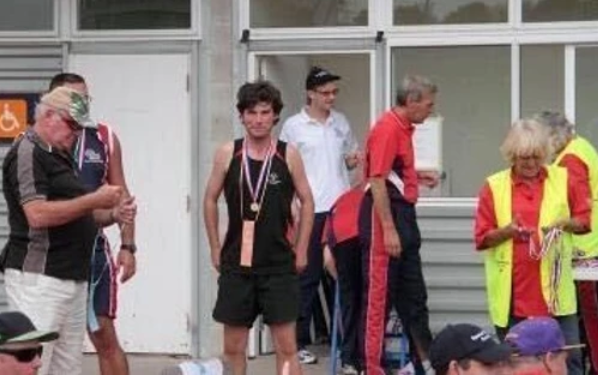 Tom Russell in 2013 at the National Summer Games in Dunedin.
Special Olympics has been a big part of Tom's life for a long time, so he filmed the video below to tell us why Special Olympics is important to him
Transcript:
Kia ora everyone, my name is Tom Russell I'm an athlete with Special Olympics New Zealand, and I'm 29 years old.
I've been involved with Special Olympics for the past 17 years and I'll just write a video now to tell you my story about Special Olympics I've done in the past 17 years.
Before I started Special Olympics I started BMX as a little boy then I stopped BMX when I was about 10.
And then 2003 I started Special Olympics New Zealand.
When I first saw the athletes out on the track and whatever events they were I saw people with a disability and that really changed my life so much.
I went up to the coaches one day and asked them how do they do it? The coaches said to me they are really strong with a good hearts out there as well so then they asked me if I can take part, and I said won't I and then I thought about it and a couple of weeks later and then I said yeah sure, I will.
So from there I've done Special Olympics for 17 years. So I took part in tenpin bowling, basketball, athletics and of course soccer. Mostly basketball and tenpin bowling is my passion, and athletics.
And I've attended the National Games twice — one in Palmerston North in 2009 for tenpin bowling. Came home with a silver medal that year. And 2013 I went down to Dunedin National Games and came home with a gold medal.
Last past times I attended the ribbon days and regional games and came home with a few and I was so over the chuff for that and I'm an athlete for that long, for 17 years.
I think I got disabilities that changed my life and I'm just so thankful what they do out there in the committee with their passion and their heart and their work. I'm just so over the moon with what they do out there as well.
If you ever want to talk to me or message me on Instagram that will be great and I'd like to see what you guys can do out there.
My heart goes out for them at the moment and I'm an athlete for 17 years, I'm a proud uncle, proud son, proud nephew, and course a proud great grandson and grandson and proud partner and soulmate to my beautiful partner Bree, and I'm a proud brother and proud to be a good friend to everyone in the world. God gave me a beautiful life for Special Olympics.
My focus at the moment is I'm gonna try and get to the Nationals 2021 next year in Hamilton.
And I would like to support more people with disabilities for as long as I can and I love you all and hope you enjoy and I'm really looking forward to more years at Special Olympics New Zealand and I'm going to continue to grow old and be happy as.
OK guys thank you for showing this video and for I record myself and hope you guys keep safe from this coronavirus, thank you.