Updated 17 September 2021.
The below information outlines the current Special Olympics New Zealand response to changes in alert levels and is valid from 17 September 2021. The details below may change with short notice so please ensure that you check our website for any changes, alongside new announcements from the government.
National Summer Games postponed to 2022
Due to the current uncertainty around alert levels, the Delta virus, and associated stress for athletes, coaches and other volunteers, the 2021 National Summer Games have been postponed to 2022.
More information can be found at our official NSG website
Important:
Our Return to Activity Guide has been updated following the change in Alert Levels.
Training can resume at Alert Level 2 if protocols are followed (See below).
All events and club forums up to and including 26 September 2021 are postponed. The situation will be reviewed the week of 20 September.
At Level 2 it is now mandatory to record your attendance at sporting and competition venues.
View our full response to alert levels and Return to Activity Guide below for full protocols regarding Special Olympics activity.
Alert Level Protocols and Return to Activity Guide
Below is the current SONZ response to alert levels and return to activity guide, this is a living document and will continue to be amended as the situation evolves.
Depending on your region's alert level, the protocols and restrictions outlined in our Return to Activity Guide will apply: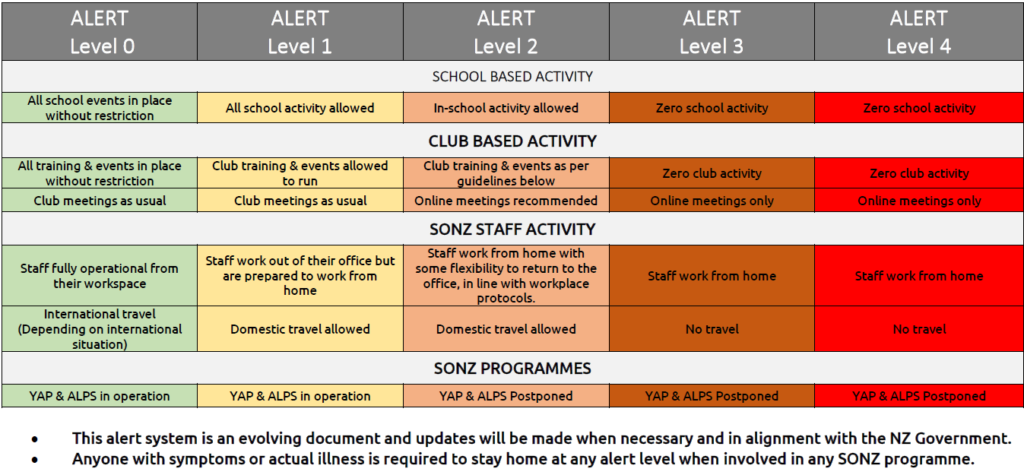 Training at Alert Level 2
The Government has announced the move to Alert Level 2 for those regions outside of the greater Auckland area. SONZ has updated our Alert System Protocols and Return to Activity guide in accordance with these changes. At a practical level, you can return to training activities, if you can do them safely. This includes indoor sports, but with extra safety measures around physical distancing, mask wearing and sanitation.
Extra precautions are required around training at Level 2:
The physical distancing requirement in indoor venues and facilities is now two meters, rather than one meter. Facilities may need to restrict numbers to help with physical distancing. Please contact your local facilities about their requirements.
Community sports are limited to groups of 100 outdoors and 50 indoors. These group limits include all players, coaches, and volunteers.
Mask wearing at indoor sports facilities is required apart from when you are exercising or playing sports. You do not need to wear a mask if exercising outdoors.
Mandatory record keeping and QR code scanning applies to all indoor sport and recreation facilities such as recreation centres, swimming pools, as well as commercial and ticketed sport and recreation events.
SONZ also recommend:
Athletes and volunteers wear a face mask on the way to and from training.
Temperature checks are undertaken at all trainings, if you do not have a contactless thermometer available at all trainings then please ask the athletes if they have had a fever/temperature/feel hot. If the answer to this question is yes, then they must sit out training and return home immediately.
Athletes that are identified as high risk are strongly encouraged to stay home.
The Ministry of Health have confirmed that exemptions for face masks/coverings remain in place. If you have a disability or health condition that you can't wear a face covering safely or comfortably, you are exempt from wearing one.
The Ministry of Health have developed an Exemption Card specifically for those who cannot wear face coverings safely or comfortably due to a disability or health condition. Many people in the community and public venues will not be familiar with the exemption so you will need to carry your card on you at all times.
To request an Exemption Card, you can email info@dpa.org.nz
For more information on face mask/coverings visit: Wear a face covering | Unite against COVID-19 (covid19.govt.nz)
Club events at Alert Level 2
All club events are currently on hold until 26 September. We will continue to monitor current information and our response to the environment, with a further update to be provided the week of 20 September. Clubs are encouraged to discuss this with their RSC if they have any questions or concerns surrounding hosting and attending events.
Club meetings at Alert Level 2
Online meetings are recommended at Alert Level 2. If you would like to access the SONZ zoom platform please talk to your RSC to arrange this.
RSC's will only attend club meetings virtually and will be able to participate at club meetings in person upon return to Alert Level 1.
School activity at Alert Level 2
Some school activities may resume at Level 2.
In-school activity is allowed if individual school policy permits external provider to enter the premises. School delivery will focus on skill development, social engagement, fundamental movement and getting students active and taking part in physical activity.
RSCs are required to wear masks at all times when on school grounds and to sign-in on the Covid tracer app on arrival at the school. RSCs are required to complete school registers for every session and upload to Sharepoint on the day of delivery.
All school events are postponed until 26 September. While there may be opportunities for school events to be held in the last week of term, it is recommended that these events are postponed at this time until Term 4 to ensure that everyone has more time to adjust to the requirements of the new guidelines.
---
We are continuing to refine our response to the alert levels as new situations arise. Our priority for SONZ is to have all of our athletes, coaches, volunteers and staff safe. We are thinking of the wellbeing of our athletes from both a mental and physical perspective, and how inactivity and isolation can impact them.
Thank you for the work that you do and your understanding during this uncertain time. If you have any questions, please contact your RSC in the first instance to discuss.
Share this page: