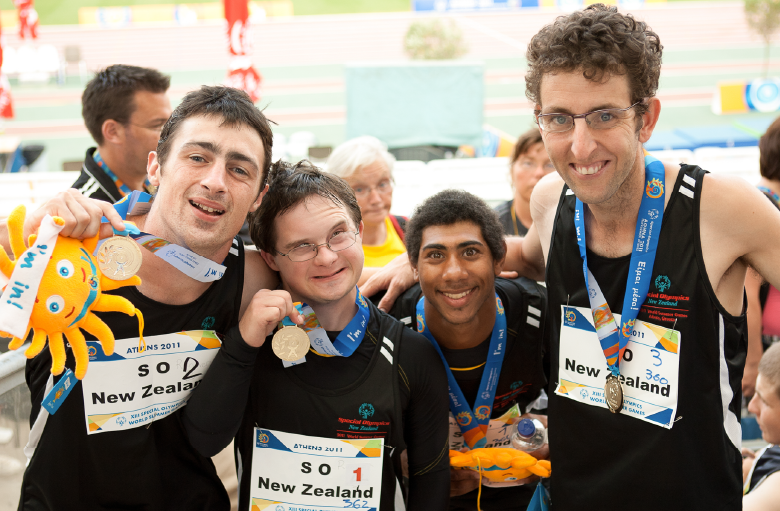 Looking back: 10th Anniversary Athens World Games
2 July 2021
With the announcement of the 2023 World Games in Berlin we're taking a trip back to Athens, Greece for the 2011 World Summer Games. Where, as Athlete leader Ryan Smith recalls, one of the many highlights was Special Olympics New Zealand's gold win in the 4x100m Relay.
"I just vividly remember being so tense in the final moments before we walked out of the marshalling area, for some of us it was our last chance at winning a medal at these World Summer Games. We walked out on the track, assumed our relay positions and when the starting gun goes off Kwame Williams-Accra just glides through with the baton, but Japan has a strong lead on him. Kwame hands the baton to me and I ran after Japan's runner like my life depended on it."
"I'm chasing Japan's runner down the straight lane and I narrowly pass him before giving Mitchell Brown the baton and he just gave it everything he had, finally handing the baton to Andrew Oswin. Andrew ran with all his fibre as I was screaming louder and louder to cheer him on as our once in a lifetime dream was in his hands. As he ran the finish line came closer and closer until finally he crossed the finish line at 58.40 seconds, winning the gold medal in the 4x100m for Special Olympics New Zealand!"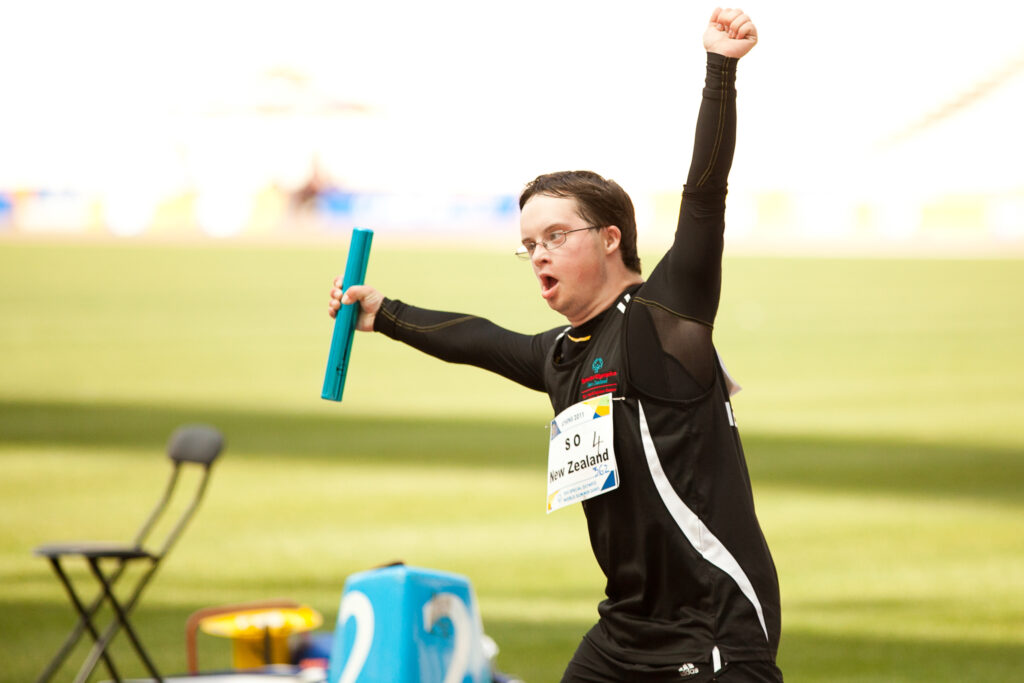 "We all embraced each other and hugged as we realised a once in a lifetime dream that at the time seemed impossible. The Medal Ceremony lasted forever but we weren't bothered as we were awarded our medals. For me that moment stands as the greatest sporting achievement of my life and I was so happy to share it with three of the most wonderful teammates and if I have learned anything from this ten years later, it's that if you want to go fast you go alone, but if you want to go far you go together"
There on the day, coach Max Brooking remembers the work that went into the win.
"Just about everyone did personal bests in their respective heats, then improved again in their finals. The team was buzzing. The relay heat had been a personal best. The relay final was the very last event and we practiced, practiced, and practiced. The guys were keen. Then they were put into a faster division. To me, a medal was now unlikely. But it did not phase them. Well, they ran a personal best by two seconds and took gold. They had run the perfect race."