Aucklander Mitch Brown yesterday fulfilled a promise he made to himself and his dad that he would win a gold medal at the Special Olympics World Summer Games in Berlin.
"A few years ago, when I told Mitch about Special Olympics and the World Summer Games in Berlin in 2023, he said I'm going to go there and win gold," said an elated father Mike.
Brown junior, held on in a nerve-wracking final round to claim a gold medal at the largest inclusive sports event in the world, with 7000 athletes with an intellectual disability competing in 26 sports.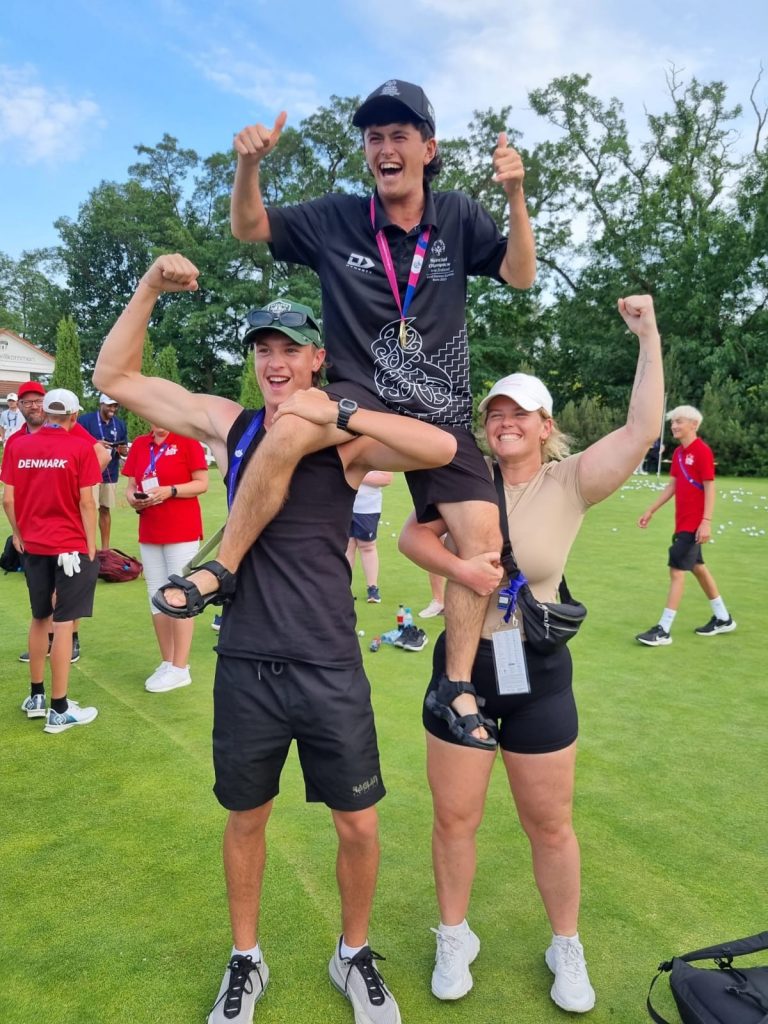 The 20-year-old Aucklander carried a commanding 12-shot lead into the fourth round of the competition, but felt the heat as Frederik Brokfelt-Christiansen from Denmark had the round of his life and closed the gap to four shots in the final stages.
"It was really tough out there today and I got a bit nervous because Fred was catching up to me, so what do I do now?" said a beaming Brown on the stunning Bad Saarow golf course on the outskirts of Berlin.
"But I managed to stay in the game and keep my cool," said Brown after claiming the second gold medal for New Zealand.
He said he was happy to do his country proud on his first visit to the World Summer Games.
"My goal was to bring back gold and now I have done it. I'm very proud and I feel very excited."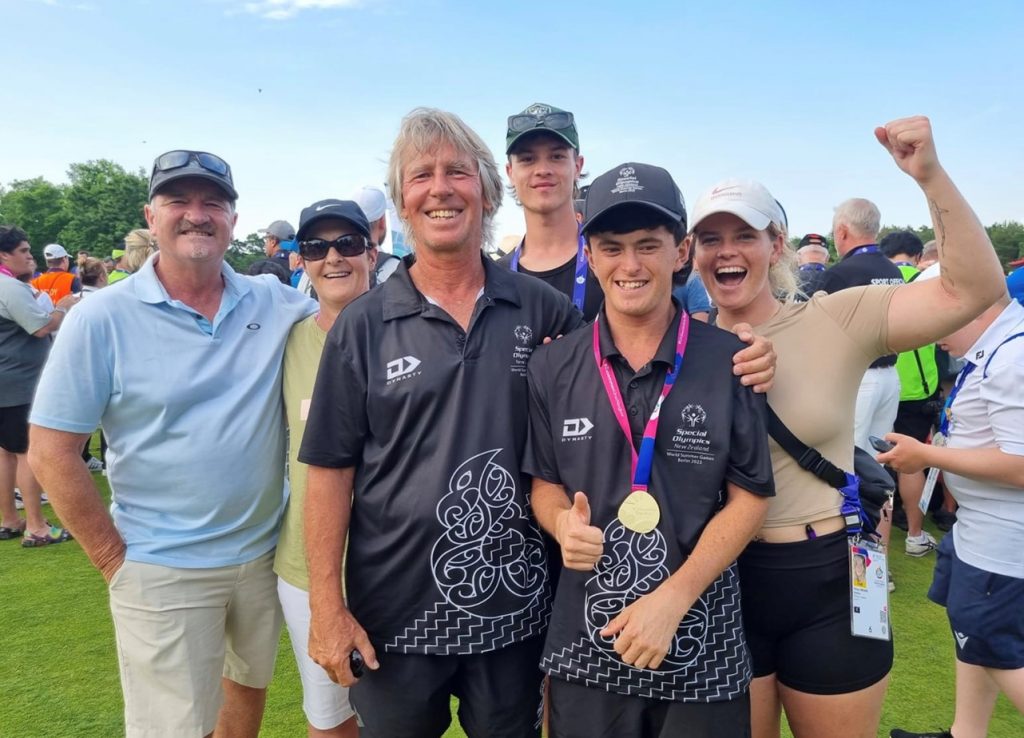 Brown enjoyed significant support on and off the golf course from his family and father Mike who caddied for him over a gruelling 72 holes in the stifling hot German summer.
"Having so much family here was great," said Brown, who never played four consecutive rounds before.
"My dad really helped me to calm down and relax."
Brown senior could hardly believe what his son had achieved.
"It's unbelievable. In a way it is also a bit of sudden relief."
"Frederik played the best round of the tournament and Mitch's knees were trembling so he had to stay alert all the way to the end."
The Aucklander scored his highest score of the tournament with 79, after previous rounds of 72, 73 and 74, while the Dane managed to score 71, one under the card.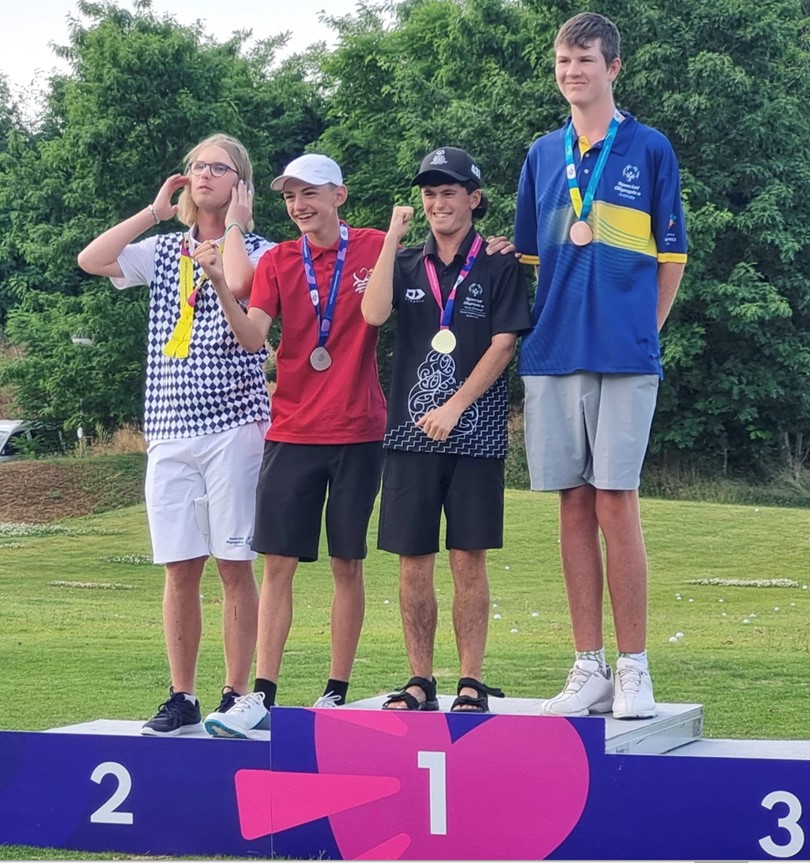 The young golfer is now off for a surfing holiday with his family to Indonesia, and when asked whether he would compete in surfing at the next World Summer Games, his sister Aimee was quick to jump in. "That's his sister's job!"
The fifth day of competition was a day for the Auckland clubs after Manakau equestrian rider  Chelsea Thorn claimed the other medal for New Zealand in the Equitation discipline yesterday.
Her success was completed by Canterbury team-mate Samantha Shepherd claiming a fourth place in her division which was a huge improvement for both riders from their performance in dressage.
"I went fantastic," said an elated Thorn who ended up with a score of 62.
The 35-year-old said that she had high expectations for herself coming into the competition.
"I was expecting to win a medal but I have learned not to be so high in my expectations."
She explained that the riders have to compete on horses they have never seen before and having the dressage the day before had been helpful to get familiar with her horse.
"You can't bring your own horses here, so you can only ride for about 45min, which doesn't give you much time, but enough time to get used to the horse for the competition.
"Today was a huge improvement, so now we have had a bit more time on our horses tomorrow's working train should even go better."
Head coach Kara Lockhart said the bronze medal was pleasing but most important was the incredible improvement both riders had achieved between days.
"It has been my pleasure to bring the girls to Germany and they have done extremely well."
On the athletics track sprinter Natasha Chang from Howick completed the Auckland success with a silver medal in a controversial 50m final.
Initially, Chang was disqualified along with the majority of her race because her time fell outside the boundaries of her division, but a strong protest by the New Zealand coaches got her reinstated and moved to second place to claim the team's 20th medal of the games.
In the swimming finals, New Zealand did not manage to challenge for the medals with swimmers Matthew Smith (Te Awamutu) and Haven Drinnan (North Canterbury) finished back in the field, despite setting personal best times.
On the football field, the New Zealand team played Germany in the repecharge tournament on the main pitch in front of a huge local crowd. Despite dominating most of the game and hitting the posts several times, the lack of finishing came back to bite the Kiwis who conceded three late goals in front of a delirious German crowd.