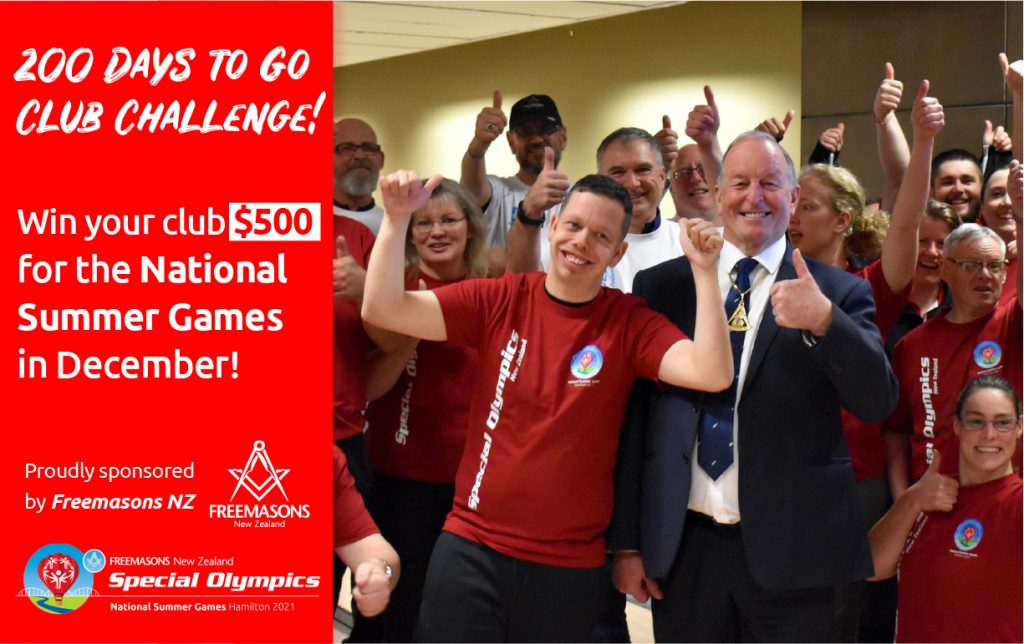 200 Days until the National Summer Games!
6 May 2022
The countdown to the Freemasons NZ Special Olympics National Summer Games (Games) is well and truly on, and we are really looking forward to welcoming athletes, volunteers and supporters to Hamilton in December this year. Over 1500 Special Olympics athletes and coaches will join us to compete at the biggest multi-sport event for people with disabilities in New Zealand from 8-12 December 2022.
Freemasons New Zealand became our partner for the Games in 2021 and have continued to support our clubs' fundraising efforts. Across Aotearoa our clubs have continued to build connections and friendships with their local Freemasons, from community BBQs to volunteering at events to joint fundraising movie nights, picnics, grants and more.
On Sunday 22 May it will be 200 Days to Go until the Games and together with Freemasons NZ we're celebrating! As part of the celebrations, we have an amazing Club Challenge with $500 to give to three of our clubs.
To enter all your club needs to do is submit a photo that celebrates 200 days to go and showcases your engagement with your local Freemasons by 21 May 10pm, so get creative and send us your photos!
It is great to see how Clubs and Freemasons are connecting across the country – building some new and special relationships, swipe through the slideshow below for highlights from the past year!
Postponing the Games in 2021 was a challenging time for all. The National Summer Games are a unique and special opportunity for our athletes to shine, for new friendships to be made and communities from across New Zealand to come together.
We know a huge amount of work and time had gone into fundraising, training, preparing, planning and getting excited, before the postponement.
Our 200 Days to Go celebration may be based in Hamilton, but we invite all our clubs to celebrate this milestone and reignite the excitement of the Games within your communities. Registrations for the Games will be open from June 6 and we can't wait to deliver an outstanding Games in partnership with you all.
More events and activities will be coming your way, so stay tuned and as always don't hesitate to get in touch with any queries or fantastic ideas.