Kia ora, kei te pēhea koe? Hooray! We made it to level 3! One step closer to level 1
Catch the latest from Special Olympics New Zealand's community, including:
When can we return to training? Our CEO, Carolyn answers the big question
Graeme Porter completes two years on the Regional Athlete Input Council
How Special Olympics Canterbury Club athletes are staying connected
Keeping in touch with our friends across the globe
What it was like to commemorate Anzac Day during rāhui
Congratulations to Greenhithe basketball coaches, Alanna and Angus!
Read on for all the details or check out the compact Fanletter.
---
The big question: When can we return to training?
By Carolyn Young, Special Olympics New Zealand CEO
Tēnā koutou katoa. It doesn't seem that long ago that I prepared a short video as the intro to the April Fanletter as we were settling in to a new routine under level 4 lockdown.
Now as I prepare the intro to the May Fanletter we are just getting used to level 3.
I hope that some of you were able to join us on the Facebook Live session. I answered the questions from our fabulous host, Jemma Drake.
Helen Ferguson, our NZ Sign Language expert extraordinaire, provided live interpretation.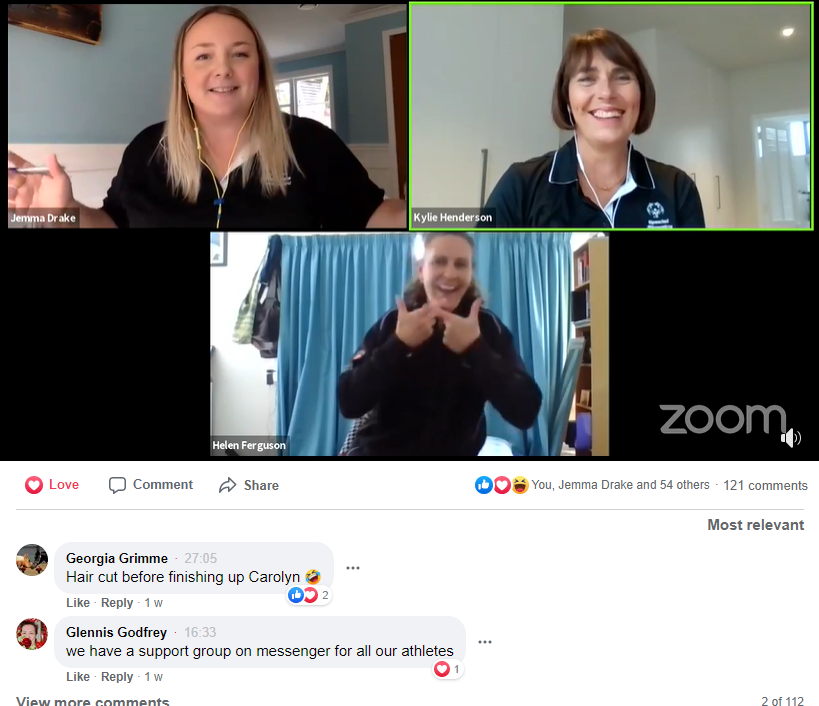 Jemma, Carolyn and Helen hold a recent Facebook Live Q&A
The most popular question was: "When can we return to training?"
Training will start when we reach level 1 (but not before 1 June 2020) — so it's not far away.
I encourage you to keep up your exercises at home as much as possible so you're as well prepared as you can be when we restart.
We had great engagement from everyone during our Q & A and are looking forward to the next Facebook Live Q & A on Thursday 7 May at 3 pm.
Please join us if you can. Last time we reached 4,859 people! A special shout-out to our friends in North Canterbury Club who helped us reach an even wider audience (95 extra views on last check!) by sharing the video with their Facebook followers.
If your bubble is anything like my bubble, the lockdown will have had its moments of joy, frustration, connection, and — occasionally — sadness.
What worked for me was keeping to my routine during the week: getting up early, going for a walk with my dog Pepa, getting stuck into work and connecting with everyone during the day, another walk with Pepa in the evening, and making dinner together with Mark.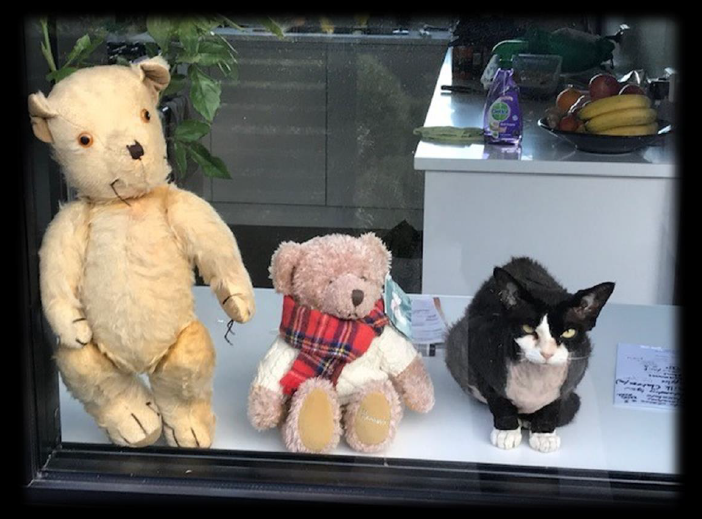 SONZ staff had a competition to guess who created each 'bear' display…this was Carolyn's.
The weekends were more challenging but filled with exercise, housework, gardening, painting and relaxation.
I hope that you too have been able to keep to a routine and include some exercise to ensure that level 4 passed quickly.
Now we're in level 3 I'm looking forward to being able to venture outside my suburb to exercise. I visited a local café today and treated my "bubble" to some caramel slice – yum!
We're not quite where we all want to be and these next few weeks may well seem like some of the toughest. But we should all be proud of our collective efforts to break the transmission of COVID-19 and keep up the good work for a few more weeks.
It's been great to see what all our athletes have been doing, including seeing stories in the newspaper, and photos and videos on social media.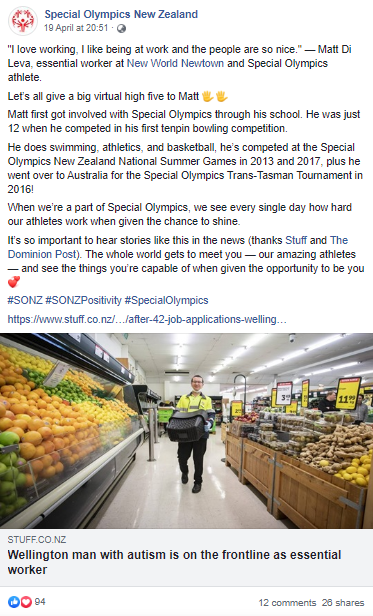 Athlete Matt Di Leva was interviewed by The Dominion Post about being an essential worker.
Thank you to Sarah Dalton and Ben Oaten who took over our Instagram and Facebook pages over the last month. It's been great seeing what they are up to and inspiring to hear their messages. Keep an eye out for the next takeover that will be happening soon!
And thank you also to Ella Sharples for keeping in touch with me and some of the other staff members via text and coming up with some great suggestions. We love hearing from all our athletes, so please continue to stay in touch.
As well as the live Q & A sessions on Facebook, we've had two live quizzes so far. We're going to make these a two-weekly event, so tune in every second Wednesday to play along.
The highlight for me has been to see everyone connecting with each to make sure that no one feels lonely during this time. Keep it up!
We have our next Club Zoom call on Monday 4 May at 5.30 pm. You are welcome to send your questions through prior to the call or you can add questions to the chat box during the Zoom meeting.
Everyone's welcome to join the call and if you need the Zoom link, please contact your Club Committee or your Regional Sports Coordinator for further details. The recording will be posted on our website on Tuesday 5 May.
Keep safe and continue to stay home and I look forward to catching up with everyone in person soon.
Carolyn
---
Graeme Porter excels on the SOAP Regional Athlete Input Council
Special Olympics athlete, Graeme Porter and his mentor, Alex McManus recently finished a very successful two-year tenure on the Special Olympics Asia Pacific Regional Athlete Input Council (RAIC). Congratulations Graeme and Alex!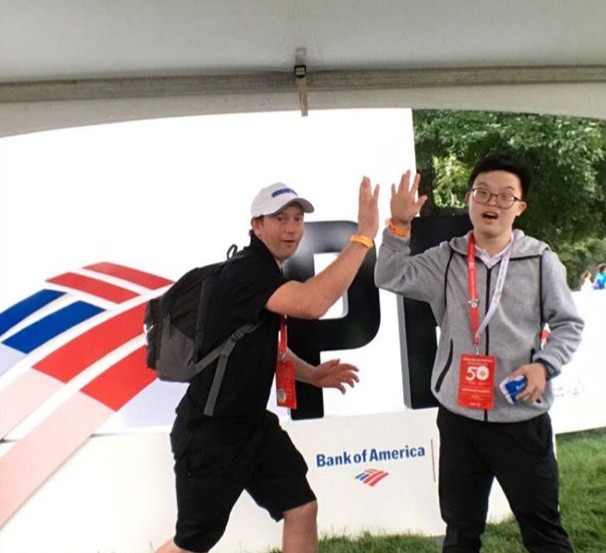 Graeme Porter and Johannes Cheong high-five at the 2018 Global Day of Inclusion.
Special Olympics Asia Pacific (SOAP) President & Managing Director, Dipak Natali gave the following endorsement to Graeme, "You have been a great role model to many athlete leaders and have inspired them to be more like you. I strongly believe you will be able to impart your knowledge and skills to more athlete leaders and youth leaders."
Being on the RAIC gives athletes a voice across the Asia Pacific region. They get to advise SOAP on ways to build athlete leadership.
Grace Payne (who recently marked 10 years with Special Olympics New Zealand!) has been newly appointed to this role for the next two years, along with her mentor, Rowena Massey.
Ka pai Grace and Rowena, you've worked really hard to get this opportunity and we know you will do an awesome job!
---
How Special Olympics Canterbury Club are staying connected
By Helen Mitchell, Special Olympics Canterbury Administrator
The athletes in the Special Olympics Canterbury Club (SOC) have stayed in touch with each other during the lockdown period.
Many have learned to use new technology, new hobbies, and how to make the best of their newly acquired asset: time.
Zoom has proved to be a new skill learnt by not only the athletes of the club but the coaches and committee members as well. I have even noticed on various social media, tips on how to look good using Zoom. Tip for everyone: you look better looking up than looking down.
Some sports are using Zoom regularly to stay in touch with their training partners. One of our swimming groups have had three meetings so far and have more planned.
The Athlete Committee had a Zoom meeting…on a Sunday Afternoon. No one knew how it would go but what a success it was!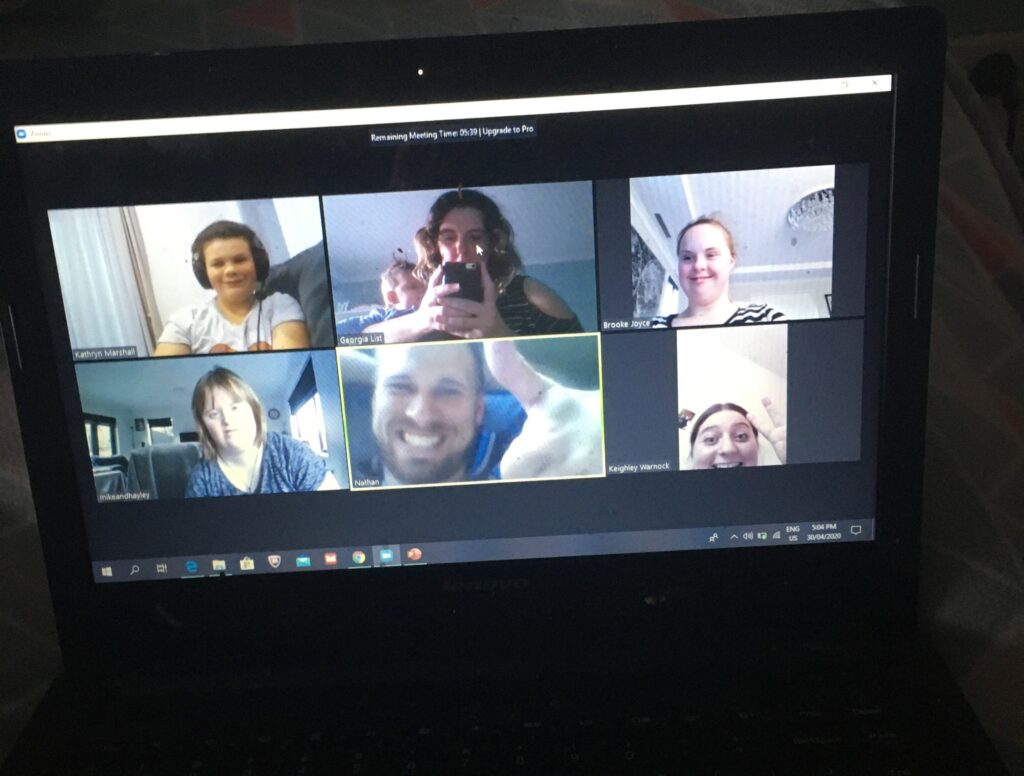 Zooming with friends!
An agenda was planned but everyone was so pleased to make contact, the agenda was quickly forgotten. The main theme was food, with photos being shown from attendees' phones of their latest achievements in the kitchen.
Cooking and baking have certainly been popular ways to pass the time. No wonder the supermarkets were out of flour and yeast when the news of a lockdown broke out.
Also in the meeting, we got to meet the family pets, dogs, cats and a chicken. Craig could not find his dog to show us. Maybe it was hiding as it did not want to go on another walk.
Todd (Athlete Committee Chairperson) returned from overseas two weeks before lockdown. He was very experienced at how to manage as he and his wife had already done two weeks (self-isolation) before the rest of us.
From the Zoom meeting, the athletes decided that a Lockdown Recipe Book would be a great fundraiser — even the coaches have been looking up their favourite recipes.
This is a wait-and-see project. Other ideas have been brought to my attention since lockdown, showing we're all still very positive about the club's wellbeing.
Walks and the TV1 Les Mills workout at 9 am has been popular to stay in shape. Tom shared a photo of him and his dogs exhausted after one session: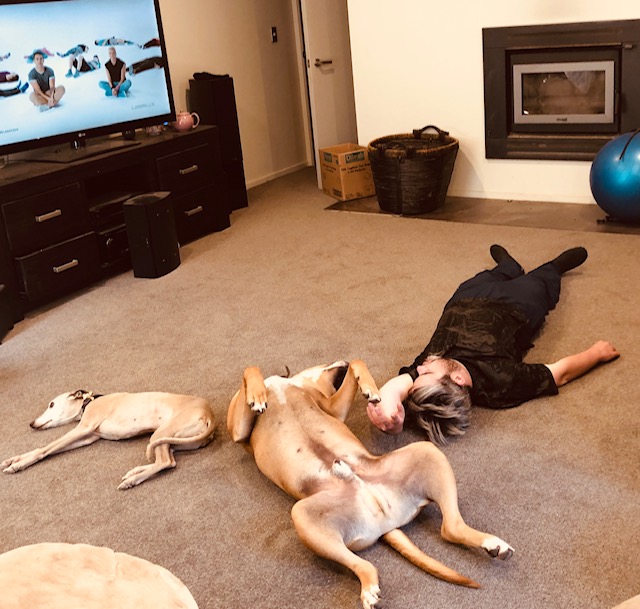 Tom exhausted after his workout.
Most athletes are staying fit so they can hit the ground running when their sports resume.
Some athletes have also continued to work during lockdown. Craig works for a bakery, so has continued right through. Andrew works in administration, so he has his work computer at home. Others have just returned to work since the country has moved to level 3.
Windows of various homes have had extra accessories. Bears to start with (Scary Bear Hunt), so when we were on our walks, 'Bear Spotting' became a great pastime.
Kayla took to knitting bears and then an Anzac Poppy. She is now planning to keep knitting and sell her products as a fundraiser for SOC.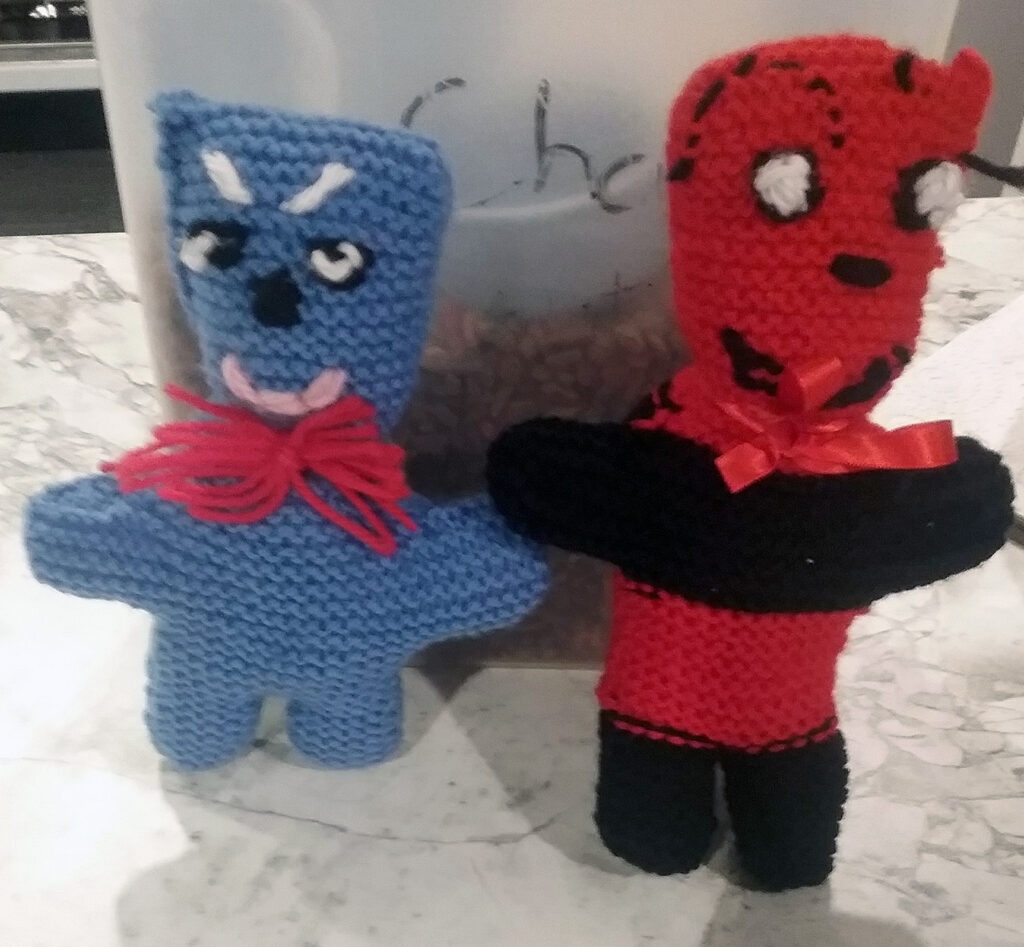 Kayla's knitted bears.
Anzac Day was celebrated in many of the SOC households, at the Athlete Committee Zoom meeting, club members were encouraged to make poppies and put in their windows and also get up and stand out at their gates to remember.
Tom went one further than that: he dressed in Military Uniform and mounted his horse to remember.
Tom, Ellie and Sam (left to right) commemorate Anzac Day from their bubbles.
Tom is an Equestrian rider and is spending lockdown with his family in the country, Lynda his mother (Equestrian Coach) joined him. Annette (Executive Committee) lives just down the road, she also dressed in Military Uniform, mounted on her horse at her gate.
All of the athletes would love to get back into training and cannot wait for the country to reach Level 1. From this experience, SOC has learnt that it is supportive, the athletes have taken on the challenges presented to them, and many will come out stronger, having found new skills, including leadership.
---
Reaching out to our friends across the globe
Special Olympics New Zealand is part of a global movement to improve outcomes for people with intellectual disabilities.
We're continuing to nurture our friendships with our Special Olympics community overseas. It's important to remember we'll always be here for each other.
Our friendships will continue to grow stronger even when we can't be together in person.
Now and always, we're in this together
Special Olympics Asia Pacific made a beautiful video to remind us all we're not alone.
---
How we marked Anzac Day during rāhui
Anzac Day takes place each year on the 25th of April. This was the day in 1915 when Australian and New Zealand Army Corps (ANZAC) landed at Gallipoli in Turkey — the site of New Zealand's first major battle of World War One.
It's an opportunity to commemorate the many thousands of military people who have served and currently serve New Zealand and Australia.
Normally we would gather together on Anzac Day. This year, all across New Zealand, we instead stood at the end of our driveways, at our letterboxes, in our lounges, and on our balconies to pay our respects.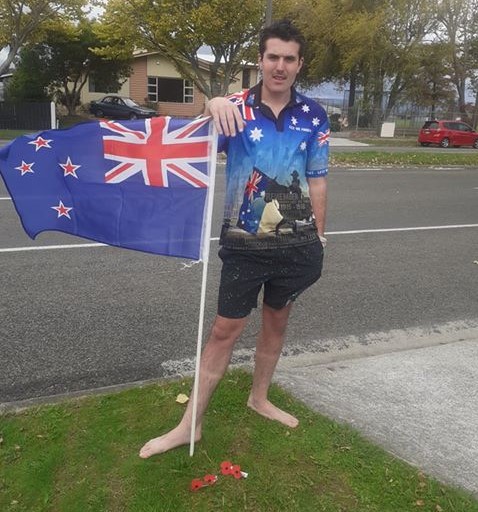 Jeremy Price next to the flag he placed on his street for people to lay poppies.
Athlete, Jeremy Price, usually spends Anzac Day attending dawn service as a member of Palmerston North council, followed by a major breakfast then a civic service.
Because of rāhui (lockdown), Jeremy had to do things differently, "This year 'cause we are a close neighbourhood, 16 of us were out at our letterbox at 6 am and we also had the flag up I'd left for people to lay poppies for 3 days."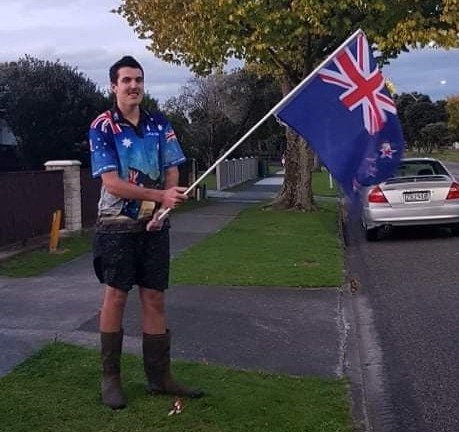 Jeremy conducts a dawn service for his street.
Jeremy first started going to Anzac services after joining Scouts, "After I left I was involved in Palmy council events team and still am today, so I normally get asked to work on Anzac Day."
He also noted what an awesome job everyone has been doing of staying connected during this time, "It's been great to see out athletes coming together and communicating on Facebook and share pictures and stories of lockdown." — Jeremy Price, SONZ Athlete.
"Our local swim team we did a zoom call and had 17 athletes catching up for an hour. Or a few of us give out challenges to the rest of our team and see what people are up to like there's been a cooking one and a pet photo one and a few more.
"But overall it's good to see everyone still connected."
E kore rātou e kaumātuatia
Pēnei i a tātou kua mahue nei
E kore hoki rātou e ngoikore
Ahakoa pehea i ngā āhuatanga o te wā I te hekenga atu o te rā Tae noa ki te aranga mai i te ata Ka maumahara tonu tātou ki a rātou Ka maumahara tonu tātou ki a rātou.
They shall grow not old, as we that are left grow old: Age shall not weary them, nor the years condemn. At the going down of the sun, and in the morning, We will remember them We will remember them.
---
Congratulations Mr and Mrs Tan-Adams!
by Jacqueline Adams, Special Olympics Greenhithe Chair
Special Olympics Greenhithe are thrilled that two of their basketball coaches, Alanna and Angus have married and are now Mr and Mrs Tan-Adams! Their labradoodle, Inuka, was the ring bearer at their wedding.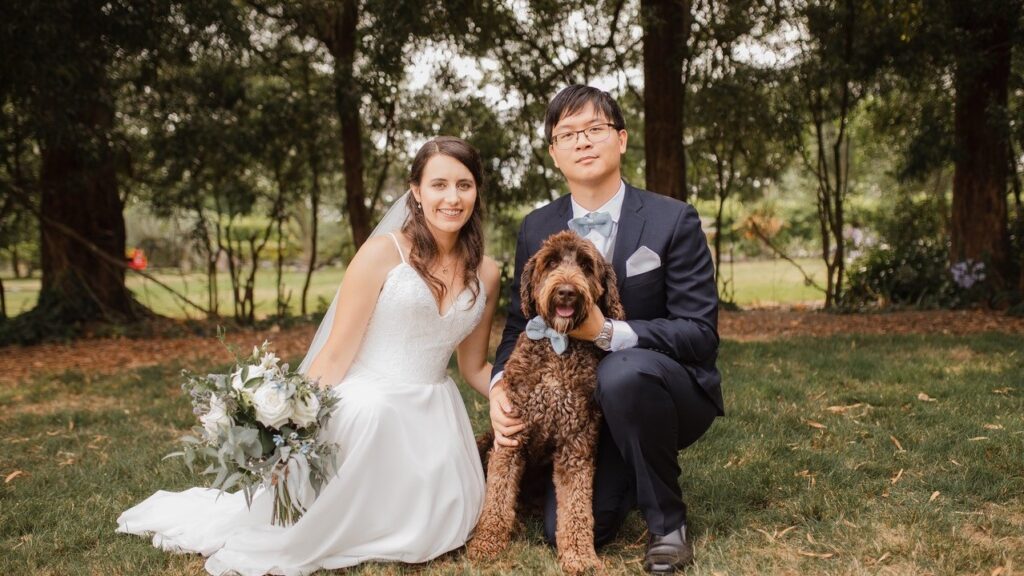 Alanna, Angus and Inuka.
Alanna was the foundation basketball coach for Greenhithe and has been coaching at the club for 10 years.
Back in 2013, Alanna lured, then boyfriend, Angus to join the team as head coach.
Alanna and Angus went on to take the team to their first Nationals in Wellington, winning gold medals in the process.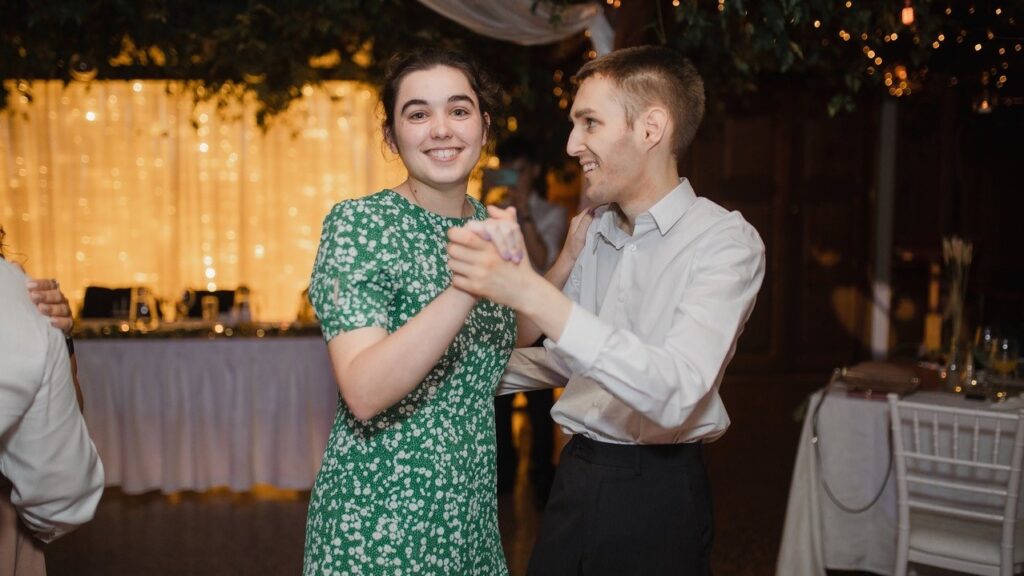 Molly and TJ, club foundation athletes, dance the night away.
Both Alanna and Angus are also mentors for athlete leaders and say they expect to be involved with Special Olympics for life!
Keep up the great mahi staying in touch with each other everyone. We've got this!
Thank you to our volunteers, donors and partners for your continued generosity