It's nearly time to go back to training. There's loads to get excited about 😍🙌
Get stuck in to the latest news from Special Olympics New Zealand's community, including:
Update from Carolyn: let's get ready for training
National Summer Games 2021: the website is ready!
SONZ athletes at work during rāhui
Spread the word about SONZ and reach out to people in isolation
Read on for all the details or check out the compact Fanletter.
---
Let's get prepped for training 📅
By Carolyn Young, SONZ CEO
Tēnā koutou katoa. Welcome to the June Fanletter, coming to you from our whare (home) offices.
We're nearly there – hang in there, team.
Whakangungu (training) is almost ready to commence…are you ready?
Today, I'm going to share some tips for athletes and coaches to consider in preparation for your first training.
First though, some tips for everyone for when we reach level 1:
Level 1 tips for everyone
If you are sick stay at home.
If you have cold or flu-like symptoms, call your doctor or Healthline and follow their advice.
Wash your hands, wash your hands, wash your hands.
Sneeze and cough into your elbow.
If you're concerned about your well-being or if you have an underlying health condition, it's recommended you work with your GP.
Keep track of where you've been and who you've seen to help contact tracing if needed.
Tips for athletes returning to training
Are you an athlete? It's time to get excited and to prepare to go back to training.
Here's a checklist for you to follow to make sure you're ready to go:
Check your training gear is clean.
Pull out your sports bag and check there is no dirty gear still in your bag.
If you play football: clean your boots!
Get your mouthguard ready if you need one
Organise how you will get to your first training. Will you walk, take public transport or do you need to ask someone to drive you?
Check in with your coach about anything extra you need to do to prepare for training.
Check in with your teammates to see if they're ready to go too.
We'll need to follow some new hygiene steps when we go back to training. These steps are slightly different for each sport, so your coach will explain what these are to you.
Join us for another Facebook Live on Thursday 11 June at 6pm. And feel free to ask me lots of questions!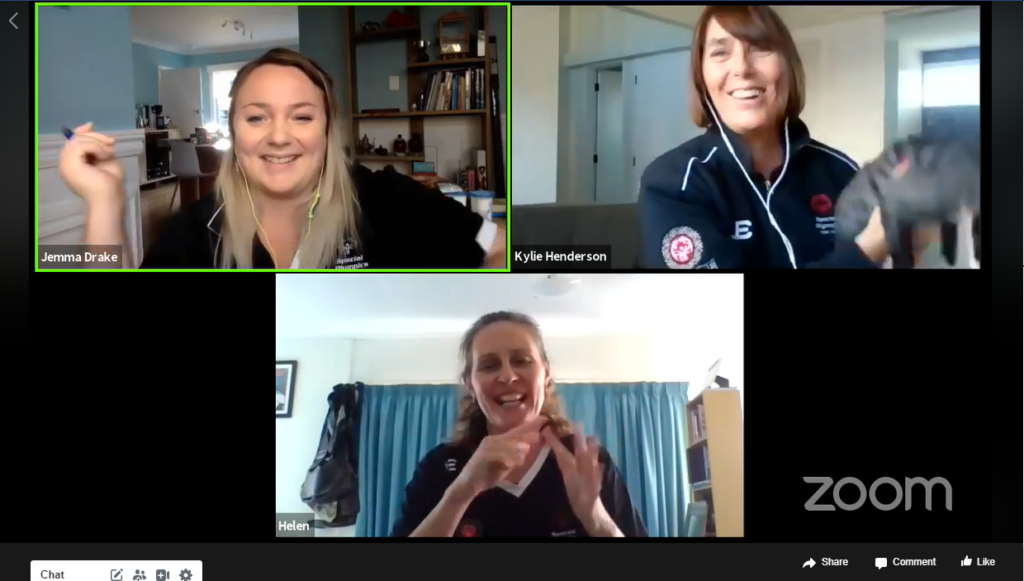 Jemma, Carolyn (with Gracie the cat) and Helen at the last Facebook Live.
Tips for coaches returning to training
Coaches: are you prepared for your first session?
Have you:
Been in touch with your athletes to make sure they are ready to come back?
Checked that your training venue bookings are still in place.
Checked the COVID protocols at your training venues?
Booked in/or completed the SONZ Balance is Better COVID webinars? Contact Kylie at admin@specialolympics.org.nz to register.
Signed off the SONZ hygiene protocols?
Been in touch with the club committee to ensure you have the appropriate equipment in your coaches kit bag, e.g. hand sanitiser, soap, hand towels, up-to-date first aid kit, gloves, etc.
Got the contact tracing forms/spreadsheet to complete at each training? Talk to your RSC for further information.
Got the updated RAMS forms? Talk to your RSC for further information.
Planned your first training session to ensure our athletes have a successful, fun and engaging first get-together.
Got some official COVID signage if required? Contact your RSC for links to the COVID-19 page.
Our next club Zoom update is on Monday 8 June at 7.15pm. I look forward to seeing you on Monday and back on the training field soon!
---
Get excited about National Summer Games 2021 🌞
By Asti Farrell, SONZ Events Director
We are so excited to launch the official website for National Summer Games 2021. The website was designed and developed by our Massey University intern, Zoe Braithwaite.
Zoe has amazing skills in both design and marketing, and designed the website around the winning logo from the logo competition we had last year.
Don't you think it looks beautiful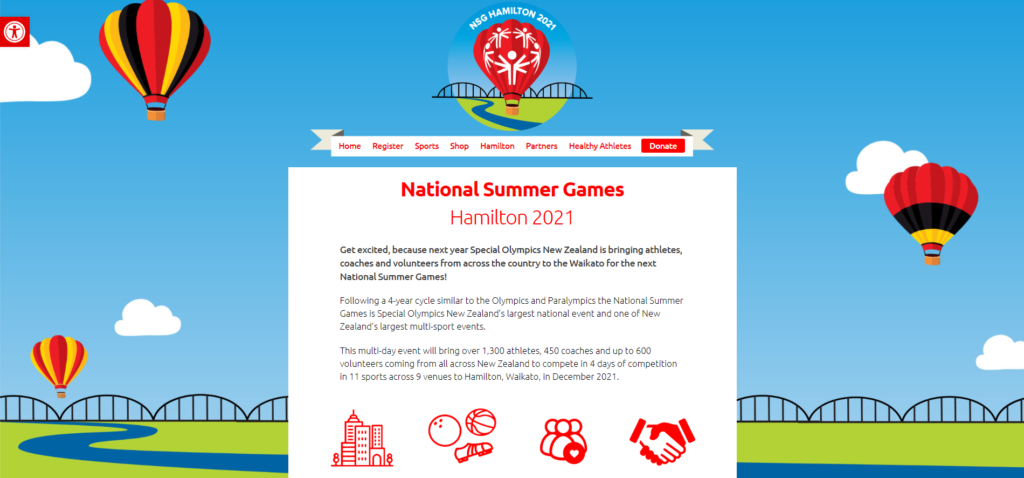 Zoe is going to stay on with us in a volunteer capacity so she can help us keep developing the website as the planning for the event continues.
Let's all extend a huge thanks to Zoe for all her work!
Not only does the website look beautiful, but it is also accessible. And it will have all the information athletes, coaches, team managers, families, volunteers and sponsors need to know about the event.
Check it out at nsg2021.specialolympics.org.nz
Some pages I recommend you explore:
Athletes, go ahead and check out the sports pages to see what events will be held, and the venue your sport will be run at.
If your family is coming along to watch you compete, get them to go to the Hamilton page to find out where they can stay and what they can do in their free time.
Do you know someone that has a business they want to promote and also loves Special Olympics? Direct them to check out the Partners page.
And a very exciting one to keep an eye on is the Shop page…
To celebrate the milestone of 500 days to go until the National Summer Games, we'll be selling some limited-edition merchandise for the month of July.
The merchandise designs are being finalised right now, but I can tell you there will be some cool tops for you to train in!
In the coming weeks, athletes will be heading back to training and preparing for the Tier 1 and Tier 2 events. These events are to qualify for the National Summer Games.
To help get you super pumped and excited about the event, here's a small selection of photos from the last National Summer Games…it was so much fun!
---
SONZ athletes at work during rāhui 😎
By Helen Ferguson, Regional Sports Coordinator Upper North Island
While we wait patiently for our Special Olympics sports training to resume, many of our athletes continue working at their jobs. I caught up with four Upper North Island athletes, Chelsea Thorn, Martie Joyce, David Menezes and Jamie Day.
We talked about what they do for work, the new challenges they've overcome during NZ's rāhui (lockdown), plus what they've been looking forward to as it eases.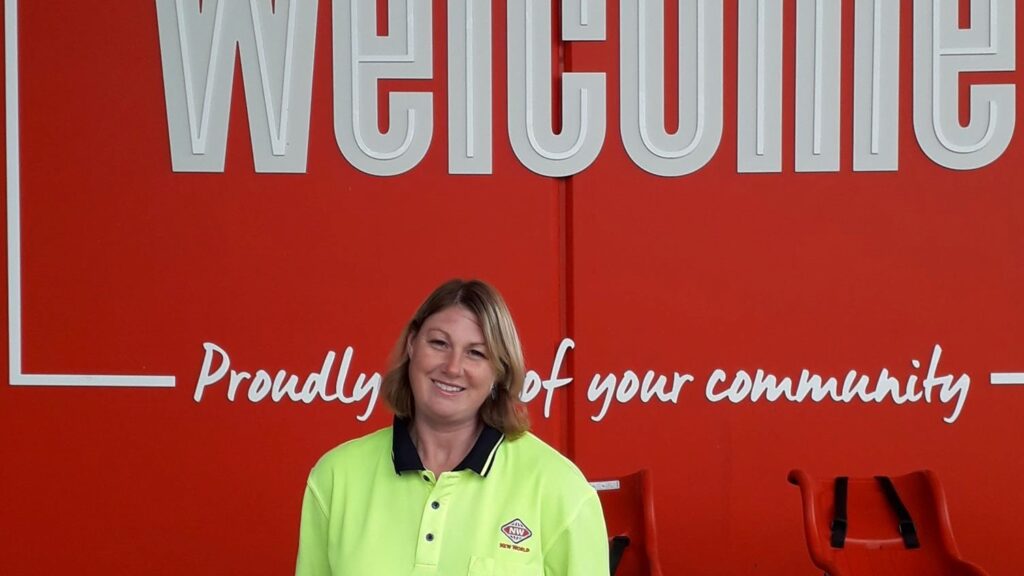 Chealsea Thron works at New World Papakura.
Chelsea Thorn competes in equestrian and is an athlete leader from Special Olympics Manukau club. Working at New World Papakura, Chelsea has had to adapt to new processes, "My working conditions have changed with face mask, gloves and health and safety procedures introduced for infection control."
Chelsea explained how she noticed a lot of different reactions from the public during her role on the front line, "Some people were scared, some angry and some confused, so I always remembered that new phrase that every kiwi learnt: keep safe and be kind."
Chelsea missed, "Movies and shopping without the protective wear." But she was able to keep up with her fitness – especially since level 2 when she was able to get back in the saddle.
Working throughout lockdown has helped Chelsea stay connected with others in her community, "I love working with my colleagues, they're a great lot and I've got to know locals that shop at New World really well".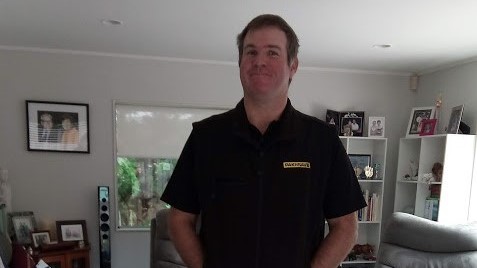 Martie Joyce ready to head to work at Pak'nSave.
Martie Joyce, athlete leader from Special Olympics Auckland club is an all-round sportsman. His sports include football, snow sports, basketball, and swimming.
Martie's smiling face greeted me in the Pak'nSave car park many times throughout lockdown. Always on hand to ensure queuing shoppers have a clean trolley, Martie says, "I love that I meet lots of different people and I like to be helpful and do a good job to make customers happy."
When asked about the main thing he missed during the lockdown, Martie said, "Sports trainings, seeing my friends, and not being able to go to the malls."
Martie enjoys kitting himself out in stylish, labelled sports clothing and has looked forward to eating McDee's again.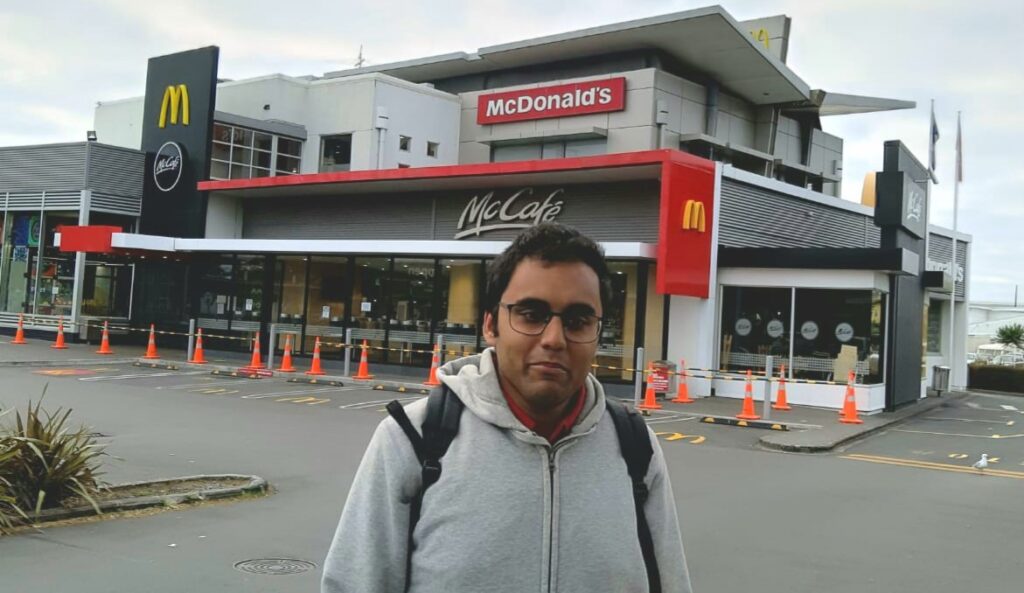 David Menezes went back to work at McDonald's Greenlane at level 3.
I'm sure David Menezes can sort those cravings out for you, Martie! David – a man of many talents – represented Special Olympics New Zealand in basketball at the 2019 World Summer Games in Abu Dhabi. David started back working at McDonald's Greenlane on April 30th.
He does an 8-hour shift and needed to learn new ways of working with social distancing.
When he got back into it, only the drive thru was open and David was excited to see the large customer lounge had become the staff room!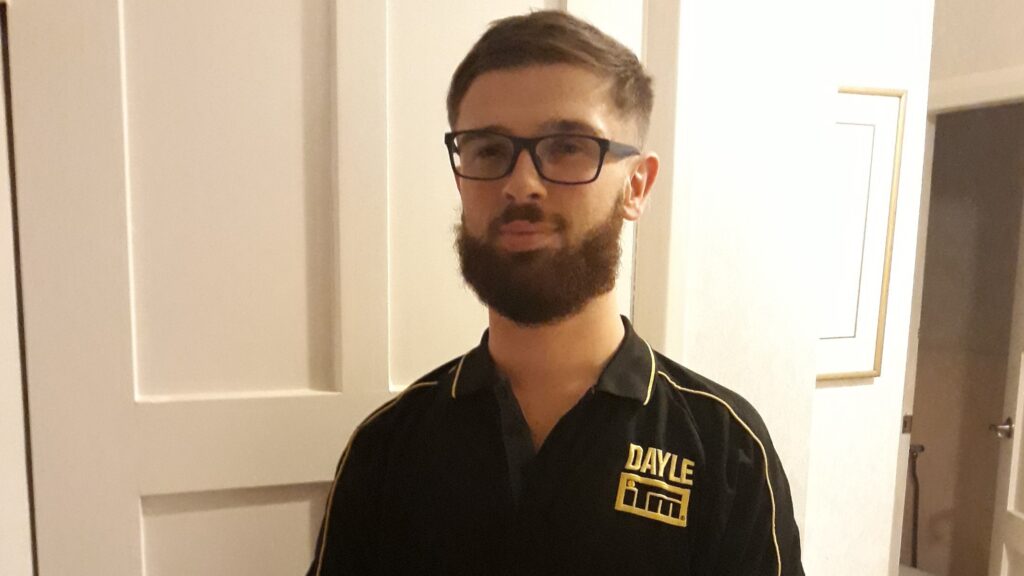 Jamie Day ready for a busy day at ITM.
Jamie Day from Special Olympics Auckland club plays basketball, bocce and indoor bowls.
He works for ITM building company and has been very busy delivering products to building sites. Jamie said every day is different and means dealing with new customers.
His biggest challenge was getting back to a normal routine after being without one for so long. When asked what Jamie was most looking forward to at level 1: "Returning to training at Special Olympics."
If you're in any of these restaurants, shops or businesses, keep an eye out for our athletes working hard during these challenging times.
Kia kaha to you all and thanks for your hard work! You are great role models.
---
Change the narrative. Change lives: help reach out to people in isolation
Every day, all across New Zealand, Kiwis with intellectual disabilities are being told they won't be able to do the things we should all have a right to do.
Sometimes, people might be told directly. Other times, it's how they are made to feel due to a lack of provision in mainstream sport.
As you know, at Special Olympics New Zealand (SONZ), we believe everyone should have the opportunity to play sport, make friends, fit in, and live an amazing, fulfilling life.
Right now, we're running a campaign to spread this message as wide as we possibly can.
We want more people to know that we are here and we can help.
People with an intellectual disability are more likely to experience isolation
The last disability survey carried out in NZ was in 2013. From this, we can gather that around 2% of the NZ population has an intellectual disability. That's around 100,000 people.
We also know that people with an intellectual disability are more likely to be isolated and feel lonely than the general population.
When people are isolated, it makes it less likely that they will find out about SONZ from their friends and family. This means — if we're going to reach the people who need us — we need to try really hard to make SONZ as visible as possible.
You can help spread the word
There are literally tens of thousands more people in NZ who could benefit from finding us and joining our SONZ community.
Together, we can increase our visibility, and increase the chance the people who need us will hear about us.
One of our partners, Go Media, have kindly donated free billboard space across the country, so you might spot one of these campaign billboards when you are out and about: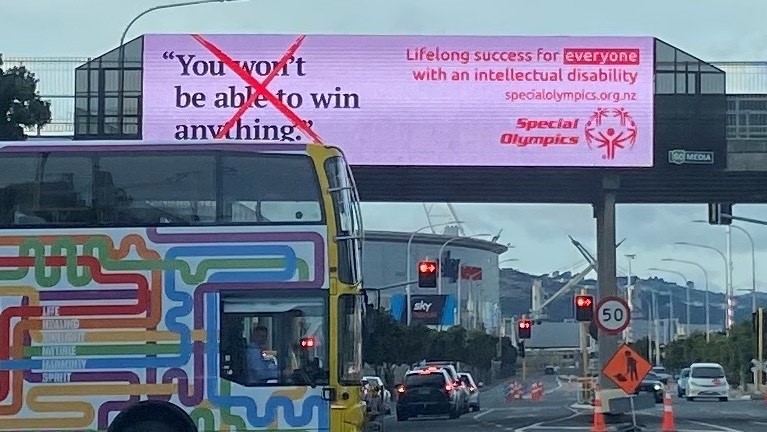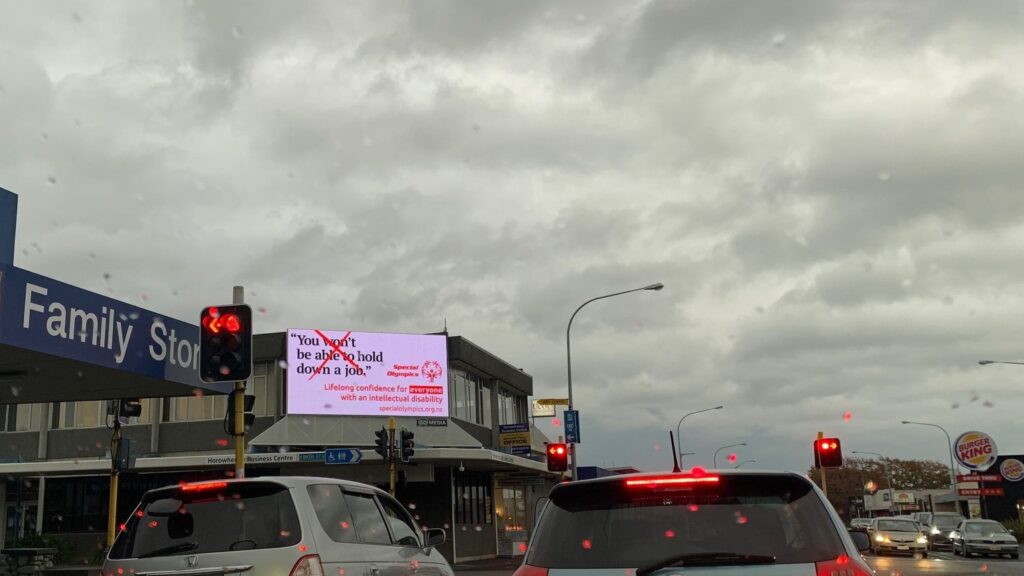 We are also reaching out to the media in the hopes they will help us bring SONZ into more homes across the country.
And there are lots things you can do today to increase our chances of reaching people in isolation:
Encourage your friends and family to follow us on social media so we can increase our reach.
Talk about Special Olympics to any new people you meet — every conversation is a chance to reach one more person and for someone new to learn about how we can help.
Share the campaign video: https://youtu.be/aL8NAE_E2pU
We have the potential to bring many more thousands of people with IDs out of isolation, and help them lead a happy, purposeful life. Let's keep doing everything we can to make that happen 💪💖
---
Thank you to our volunteers, donors and partners for your continued generosity 💞