Powerlifter Ryan Stewart from Dunedin was the first New Zealand athlete to claim a medal at the Special Olympics World Summer Games in Berlin.
The 37-year-old overcame some initial wobbles at the powerlifting cauldron at the enormous Messe convention complex to perform near his best to claim not one, but four silver medals.
The final dead lift of 152.5 kg had the packed crowd on their feet as Stewart literally pulled every ounce of power from his tiny body, only for the judges to disallow the attempt.
When asked if he was disappointed over the final attempt, the Otago man responded in the true spirit of the Special Olympics: "Nah, I had to give it a go and had nothing to lose."
Stewart is a regular at Special Olympics, as well as in the mainstream powerlifting circuit and is accustomed to performing in front of crowds, but the boisterous scenes at the powerlifting arena was another level for the World Games debutant.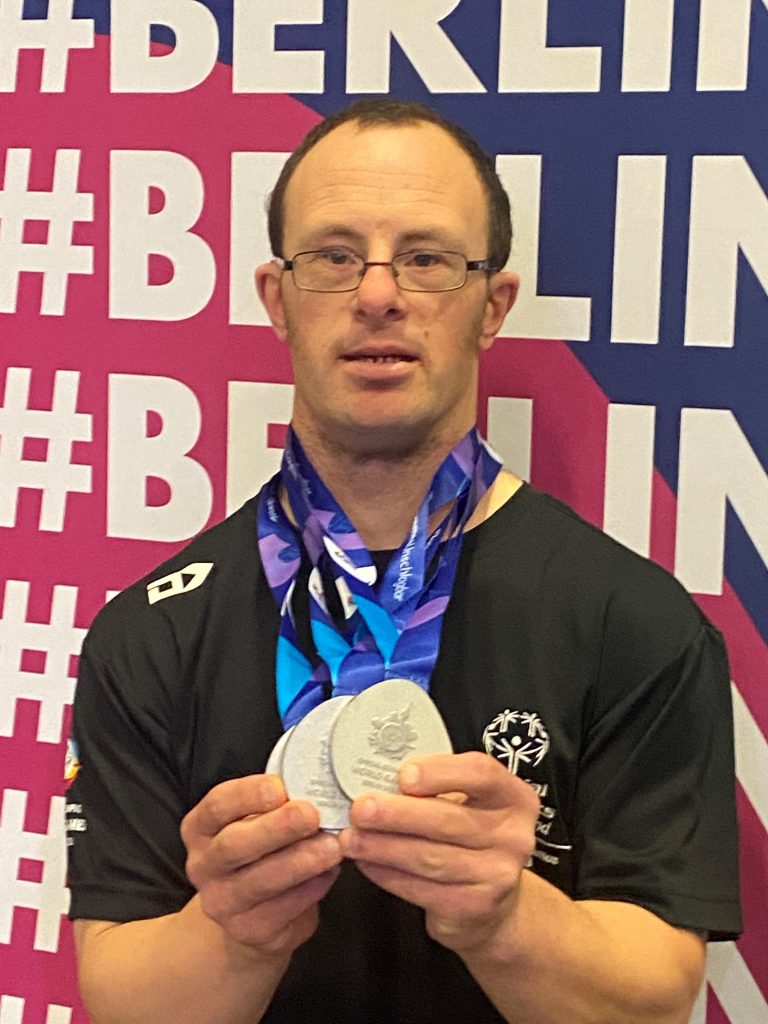 "I think the whole occasion and the crowd got to Ryan a bit on the first squat attempt," said coach Sonia Manaema from Southland.
"But we had a good chat after that first attempt to remind him to listen to the coaches on stage and after that he was great."
Following the failed first lift, Stewart recovered to lift 102.5kg, then bench-pressed 72.5kg before lifting 145kg in the deadlift.
The courageous Southerner was embraced by the German commentator and international crowd, which included several Kiwi team-mates and mother Lynne, who got a bear hug from the medallist who had been away from his dearest for nearly two weeks preparing for the World Games.
Stewart has been part of Special Olympics for 18 years, but initially in rowing and tenpin bowling, "because in those days, Special Olympics did not do powerlifting," said Lynne Stewart.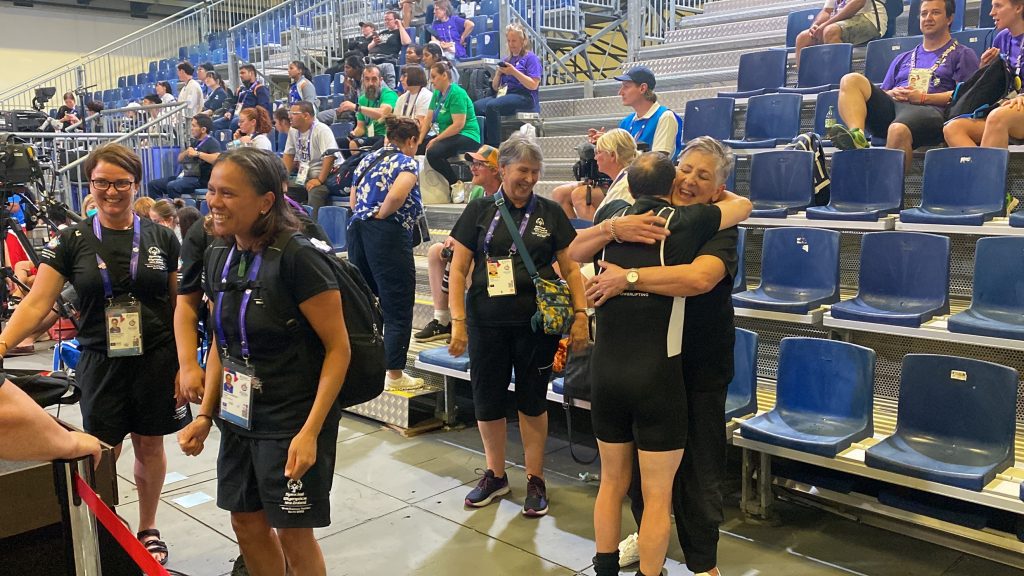 "We live on a steep hill and Ryan used to haul this big backpack up that street every day so we often commented that powerlifting would be the perfect sport for him."
Once the sport was added to the Special Olympics roster, Stewart took to powerlifting like a duck to water and is now competing in several regular competitions each year, including the National Powerlifting Championships in Christchurch.
Stewart is well-known in the disability community in Otago and around New Zealand as a genuine role model, who lives independently, holds down three part-time jobs and trains his heart out each week.
Today was a culmination of years of hard slog for Stewart who was unable to defeat the impressive Greek athlete Dimitri Kyriakos Andriopoulos who was a class of his own to pick up gold in all three disciplines, as well as the overall title.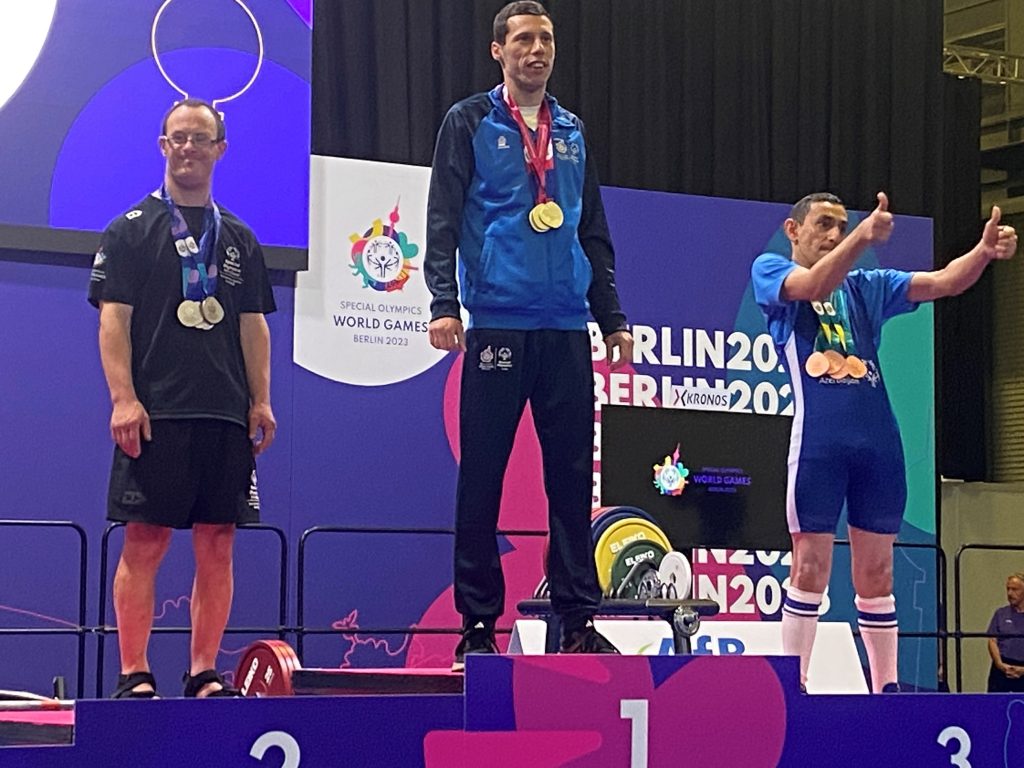 Stewart can now spend the rest of the week supporting the rest of the powerlifting team and the other Kiwis who all stepped up to another level on day two of competition.
Golfer Mitch Brown from Auckland recorded a par score on his opening round of the World Games on a challenging Berlin course, while the 3×3 basketball team scored a 7-0 win in their first match against Romania.
In the pool, several New Zealand swimmers were smashing out personal bests in their semi-finals to be well placed for the medals. Matthew Smith from Te Awamutu broke his PB in 50m and 25m backstroke, while Bella Lammers (Canterbury) also set two new best times in the 25m freestyle and 25m backstroke.
On the athletics track, Wellington's Matthew Di Leva continued to improve on each attempt on the long jump with a final jump of 2.15m, and also finished 5th in his 200m quarter-final.
In those same heats, Natasha Chang (Howick) finished third and Masterton's only representative Josh Taylor managed fifth in a super-fast heat.
In her first race of the games, Hayley Little from Tauranga battled on bravely in a tough 800m and was rewarded with a fifth place.
The football team had another tough day in their grading games, losing 10-4 to a slick Aruba side, with one more divisioning game left against Austria. Once the teams are set in their appropriate divisions, Dunedin coach Matt Woodason is expecting his team to step up another gear.
In the equestrian ring, Samantha Shephard (Canterbury) and Chelsea Thorn (Auckland) also had their first divisioning competition on the new horses they were allocated, and will be competing for the medal in the next three days.