New Zealand's Special Olympics goalkeeper Todd Neal and his team-mates remained remarkably upbeat after conceding seven goals in their opening match against a classy Egyptian side at the World Special Olympics in Berlin.
To most observers the Wellington goalie was the man of the match as he singlehandedly kept the very slick Egyptian side at bay for the first part of the game before the floodgates opened.
"We played against a good team, and I made a few good saves, but clearly not enough," summarised the pragmatic Neal after the first day of competition in the largest inclusive sports event on the planet.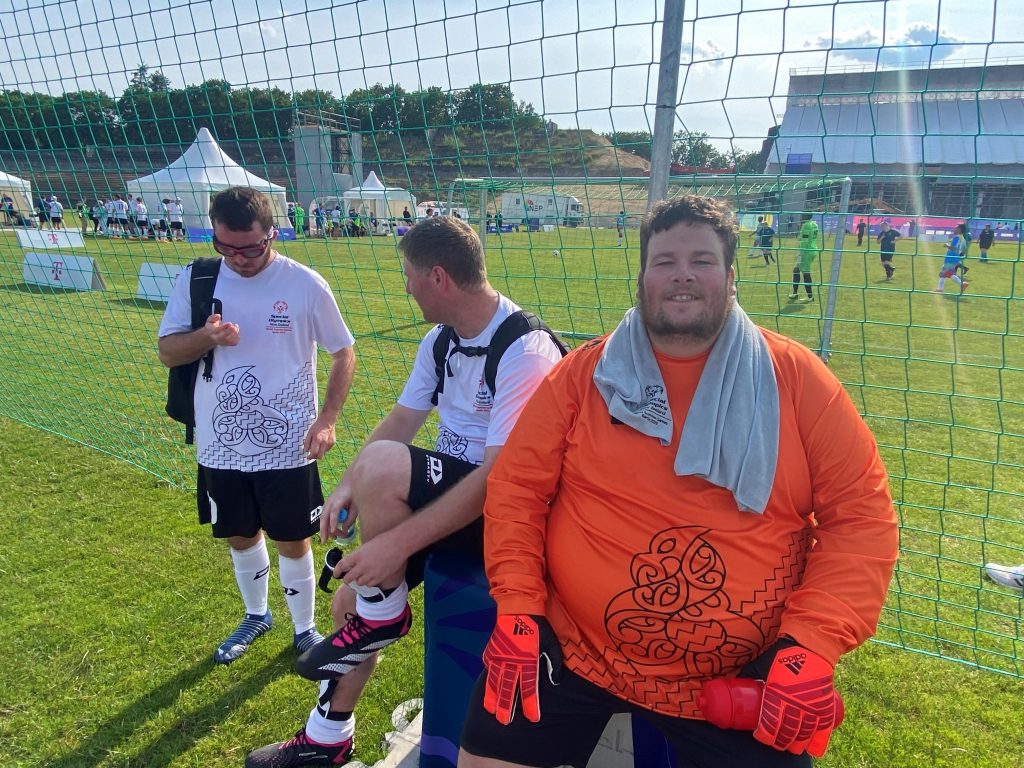 Over 7000 athletes with an intellectual disability marched in the Olympiastadion on Sunday morning (NZT) in front of 80,000 fans and on Sunday evening (NZT) the real action started in the pool, the track and the football pitch.
New Zealand's opening match against Egypt was part of the initial divisioning fixtures where the ability of each team is assessed and they are eventually streamed to compete against similar opposition.
"I'm glad we had Egypt for our first hit out. Now we know what we need to work on," said the upbeat Head Coach Matt Woodason from Dunedin.
"It seems like a big score, but I think we held them out really well especially when our strongest players were all on," said Woodason, who agreed that "Todd was just outstanding".
The Wellington goalkeeper said he had fun, despite the score, but suggested his team may need a bit more practice.
Neal is just happy to be in Berlin after two unsuccessful attempts to be part of the World Summer Games.
"I first tried to get to Los Angeles in 2015 with bowling, but missed out and then I was selected in 2019, but didn't go because my mum passed away," said the goalkeeper.
Four years later, Todd, and his father Bruce as assistant coach, are finally making the dream of mum Sandra come true.
"She is here in spirit to see Todd play, so I am very grateful for that," said Bruce Neal.
"My wife was a great supporter of Special Olympics, with Todd and myself. She was trying to get Todd to World Games and we finally got there third time lucky," said Neal senior, who admits he has not much knowledge of football and leaves the technical discussions up to the other two coaches.
"I am here to support the team and you couldn't find a better bunch to hang out with."
The football team were well supported on the sidelines by the New Zealand equestrian and basketball teams who start competition on Monday evening NZT, while many in the athletics and swim teams had their first taste of competition.
Wellington runner Quentin Mahoney was the first New Zealander in action on the track and surprised the team by beating his personal best on the 1500m by three seconds.
The athletes were clearly up for the task as Auckland sprinter Natasha Chang beat her personal best over 50m and 200m back to back.
"I was a bit tired after the opening ceremony, but not really nervous," said Chang.
Asked what her secret was, she said it was "all about speed, just like Usain Bolt".
Josh Ryan from Manawatu finished fourth over 200m.
Just like at the athletics track outside the Olympiastadion in the Western suburbs of Berlin, a huge crowd was poolside at Europapark pool in the former East Berlin to watch Manawatu's Jesse Williams get the first taste of action, nearly breaking his personal best over 25m freestyle to finish third.
Canterbury's Bella Lammers finished third over the same distance and got close to her best time over the 25m backstroke to finish fifth in her heat.
The final swimmer in action on day one, was Matthew Smith from Te Awamutu who set a new personal best in the 25m backstroke.
"An excellent day in the pool for us," said Head Coach Carla L'Huillier.
On day two, starting around 7pm (NZT), the swimmers, athletes and footballers will all be back in action, while the equestrian squad, basketball team, Otago powerlifter Ryan Stewart and Auckland golfer Mitch Brown will get their first taste of the World Summer Games.