Two centuries after Napoleon marched under the famous Brandenburg Gate in the heart of Berlin, the New Zealand Special Olympics team danced their way down the same boulevard to celebrate conquering the World Summer Games.
The 39 New Zealand athletes and 22 support staff had plenty to celebrate after they earned themselves a record high 34 medals, with five golds, 17 silver and 12 bronze.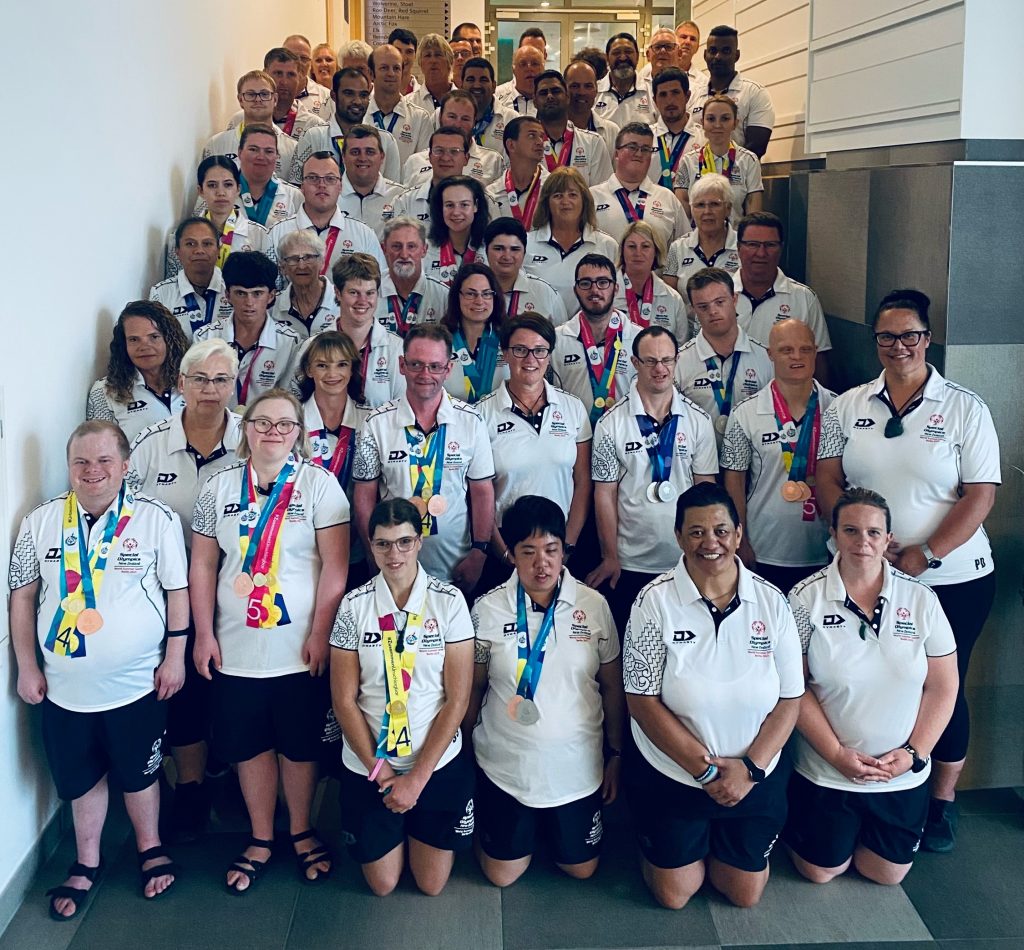 The Kiwis joined 7000 other athletes with an intellectual disability from 190 countries to mark the end of a memorable 10 days where the German hosts managed to elevate the Special Olympics World Summer Games to a new level.
With hundreds of thousands of fans filling up world-class facilities to watch the 26 sports, with live broadcasts across the globe, Special Olympics has firmly moved into the mainstream consciousness, here in Germany, and the rest of the world.
"I am confident these World Summer Games will have a lasting impact on Special Olympics worldwide and in New Zealand," said Head of Delegation Rowena Massey, who like all the other support staff has to go back to her day job next week after volunteering her time in Berlin.
Massey says the 2023 World Summer Games have taken the event to "the next level" both on and off the field.
"Special Olympics definitely moved away from the fringes where the disability sector historically was allowed to play our games out of the spotlight, but now that people are taking notice, they recognise the fantastic athletes in our team and the amazing courage and commitment they display in every event."
From the opening ceremony at the historic Olympiastadion with 80,000 spectators, there could be no misunderstanding that these World Summer Games would be of an epic scale.
"Our athletes have demonstrated they were able to deal with this incredible environment, which can easily be distracting or intimidating," says Massey, who said that the medals are an important recognition for achievements, but that her team focuses on improvement where personal bests are more important than the medals.
"We just want our athletes to perform to their best ability, try their best and have fun.
"Medal counts don't always tell the full story. We also look at athletes like our swimmers who ended up with two bronze medals, but smashed personal bests every day in the pool and gave some top swimmers a real run for their money."
Athletes invited to the World Summer Games are selected on sporting ability but also on their resilience to travel internationally and be away from their family for three weeks.
"For some athletes that can be a real struggle, but our team as a whole has bonded incredibly well where athletes from different sports have all hung out together, supported each other through success and disappointments, and have made some friends for life," says Massey.
She adds that the World Summer Games are life-changing for many athletes and she can see how much confidence and independence the athletes have developed during this trip.
"That confidence translates into better community engagement, employment, education and making friends and those rewards are much longer lasting than any medal."