Updated 30 November 2021.
The below information outlines the current Special Olympics New Zealand response to the Covid-19 situation and the Government Covid Protection Framework and is valid from 30 November 2021.
The details below may change with short notice so please ensure that you check our website for any changes, alongside new announcements from the government.
---
Message from CEO Carolyn Young
Firstly, I wanted to acknowledge that there is a lot to learn and understand, we are working in this environment every day and we are aware that volunteers have full time jobs and other priorities. Our intention is to keep this as simple and straight forward as possible; we are here to help. Our advice would be to reach out to your Regional Sports Co-ordinator, Josie, Gary or myself with any questions. These are tough times, and we need to be adaptable and work together. I know a number of parents will be concerned about the welfare of their children and how to keep them safe. This has been a key criteria that the board have considered in developing Special Olympics response to the Covid Protection Framework.
We have been advised that Government is aware of the need to engage with people with a disability to understand where the barriers are, and we are happy to pass these on to ensure the process is straight forward for our community. Some information is late in being clarified as we are all learning as these changes are being developed. Its complex and we have to be agile and prepared for changes throughout 2022.
The language has changed as we enter into the Covid Protection Framework. We no longer talk about bubbles and alert levels. The Vaccine Pass and traffic lights are key information as we move forward. If you are unable to find what you are looking for please reach out to our team so we can assist you with this transition.
All of our lives have been impacted by Covid to differing degrees, we all have our own story and for many of you this will feel like another hurdle to cross. Let's work together to make sure that we can make this as smooth as possible.
---
News
Q&A club Zoom meeting 30 November 2021 – SONZ vaccination policy and Covid Protection Framework response
View questions and answers from the club Zoom Call
National Summer Games postponed to 2022
Due to the current uncertainty around alert levels, the Delta virus, and associated stress for athletes, coaches and other volunteers, the 2021 National Summer Games have been postponed to 2022.
More information can be found at our official NSG website
You can also view questions and answers from our club Zoom call on 21 September
All club events cancelled for remainder of 2021
All club events are cancelled for the remainder of 2021. Although club events are on hold, trainings (in compliance with Government regulations) can resume under your regional regulations and SONZ rules.
---
Resources for clubs
This document is a "live" document which will be updated from time to time as our environment continues to change in response to Covid.
If you have questions that have not been answered in the FAQs, please send an email to sport@specialolympics.org.nz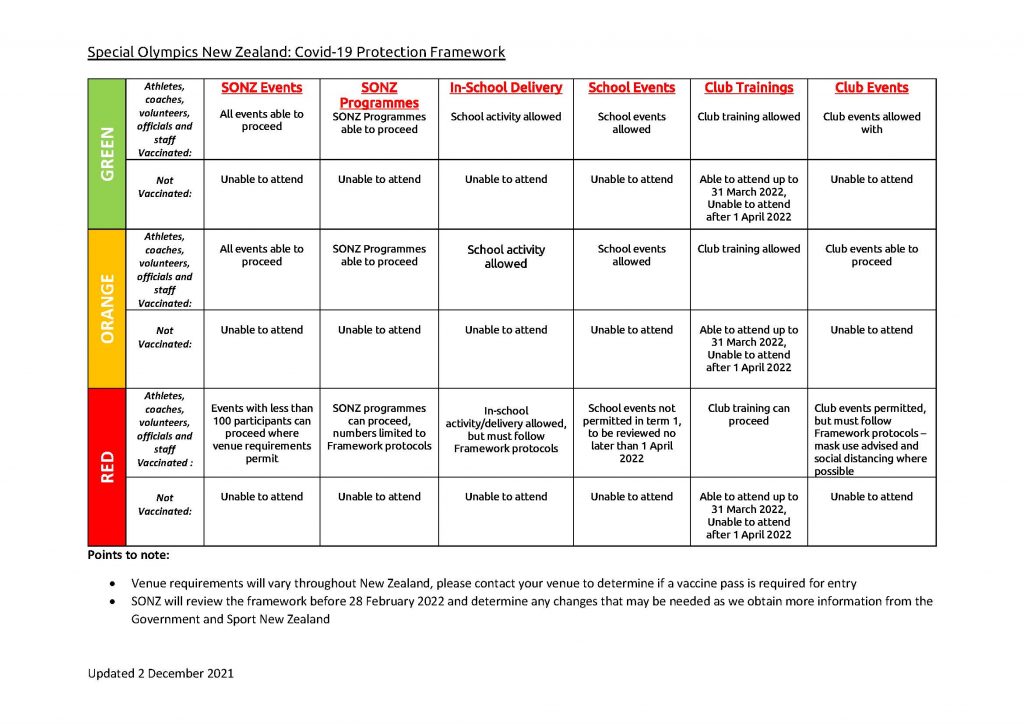 NZ Government Covid Protection Framework
View the up-to-date NZ Government Covid Protection Framework and summary table in PDF form
What colour is my region at?
Check here to find out what colour your region is at
How to get My Vaccine Pass
There are 3 ways to get your My Vaccine Pass — online through My Covid Record, over the phone, and in person at a pharmacy.
Find out more info about My Vaccine Pass on the official Government page
Online through My Covid Record
The quickest way to get a My Vaccine Pass is through the website My Covid Record.
You will need a unique email address and a valid ID.
Request a pass
In the 'Passes and certificates' section, select 'Request pass or certificate'.
The 'Select a pass or certificate' screen will open. Select 'My Vaccine Pass' and then select 'Continue'.
In the 'Your details' screen, enter the email address that your vaccine pass should be sent to and select 'Request pass'. A confirmation screen will appear.
You should get an email with your pass within 24 hours.
How to use My Covid Record to get My Vaccine Pass [PDF, 253 KB](external link)
Save or print a pass
The email gives you the option to save it to your phone:
For Apple, click 'Add to Apple Wallet'
For Android, click 'Save to phone'
The email also has a PDF attachment that you can download and print.
Over the phone
If you cannot access My Covid Record, or do not have a unique email address or valid ID, you can call the Ministry of Health to request a physical copy.
It will help to have your NHI number ready — you can find this on a hospital letter, a prescription or prescription receipt.
Phone: 0800 222 478
If you have requested a My Vaccine Pass by post
If you have requested a My Vaccine Pass by post, these on will be sent out on Wednesday 1 December. If you have not received your pass by Friday 3 December, you will still be able to access basic needs services.
If you require a pass urgently, visit a pharmacy that is offering COVID-19 vaccinations. They can help you print your My Vaccine Pass.
In person at a pharmacy
Pharmacies that are providing COVID-19 vaccinations can also help you request and print a My Vaccine Pass. Confirm in advance that they offer this service, and bring your NHI number if you can when you visit.
You do not need to have ID or an email address to get your pass or certificate from a pharmacy. You will be asked some personal details so you can be found in the system. Having your NHI number with you will be useful.
Find a participating pharmacy near you — Healthpoint
The New Zealand Pass Verifier App
Facemask exemptions
The Ministry of Health have confirmed that exemptions for face masks/coverings remain in place. If you have a disability or health condition that you can't wear a face covering safely or comfortably, you are exempt from wearing one.
The Ministry of Health have developed an Exemption Card specifically for those who cannot wear face coverings safely or comfortably due to a disability or health condition. Many people in the community and public venues will not be familiar with the exemption so you will need to carry your card on you at all times.
To request an Exemption Card, you can email info@dpa.org.nz
For more information on face mask/coverings visit: Wear a face covering | Unite against COVID-19 (covid19.govt.nz)
Share this page: